White Sox should jump on opportunity presented in AL Central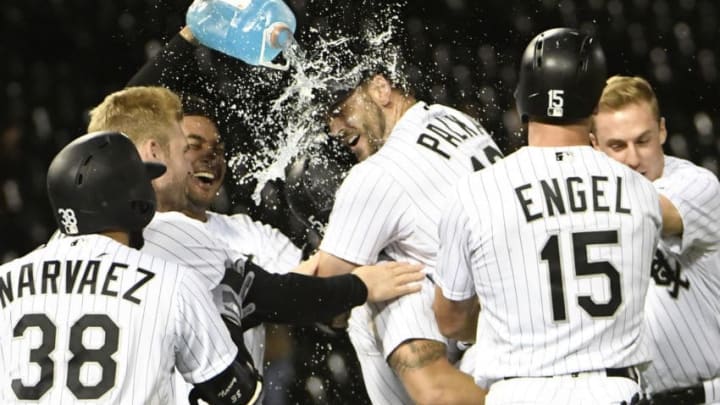 CHICAGO, IL - SEPTEMBER 25: Daniel Palka #18 of the Chicago White Sox is mobbed by his teammates after hitting a two-run game winning single against the Cleveland Indians during the ninth inning on September 25, 2018 at Guaranteed Rate Field in Chicago, Illinois. The White Sox won 5-4.(Photo by David Banks/Getty Images) /
HOUSTON, TX – AUGUST 12: Dallas Keuchel #60 of the Houston Astros pitches in the first inning against the Seattle Mariners at Minute Maid Park on August 12, 2018 in Houston, Texas. (Photo by Bob Levey/Getty Images) /
If the Sox want to take full advantage of the Indians rumored sell-off, Rick Hahn needs to make changes to the pitching rotation.
He should think like the Yankees and go big. No one would expect it and that's perfectly ok. The White Sox and their fans deserve nice things.
First, he should trade Lucas Giolito, before he's in too deep with the team. Giolito racked up the most earned runs and the most bases-on-balls in the American League. A pitcher like that will not help the team.  He's only making the league minimum, but he costs the Sox more wins than that low salary is worth.
After getting rid of Giolito, Hahn should get his hands on a few of those outstanding pitchers in the free agent market. His first acquisition should be Dallas Keuchel to be ace of the team. With Reynaldo Lopez and Carlos Rodon, the Sox will need a second and fifth starter. The others could be made via trade or could be pitchers like Francisco Liriano, Anibal Sanchez, Wade Miley, or maybe the versatile Nate Eovaldi.
Hahn could even work on Sonny Gray, as the Yankees are keen to get rid of him.
No matter what Hahn does, he needs to find an ace who can lead and inspire the rest of the pitching staff to be better than they think they can be. James Shields may have been a positive asset in the clubhouse, but his pitching was uninspiring. The Sox need an ace with swagger who creates bit of nervousness in batters. The current pitching staff just doesn't do that.
If the Indians are really interested in moving their pitching, then by all means, Hahn should go after one of them. Corey Kluber will demand the most money, but Carlos Carrasco would be a solid fit in Chicago. He doesn't come with the drama of Trevor Bauer. Instead, Carrasco comes with a career ERA of 3.71 – better than any of the 2018 ChiSox starters.
Imagine a Sox rotation that included Keuchel, Carrasco, Lopez, Rodon, and say … 2018 Anibal Sanchez? I could watch that.