White Sox: The Mount Rushmore of starting pitchers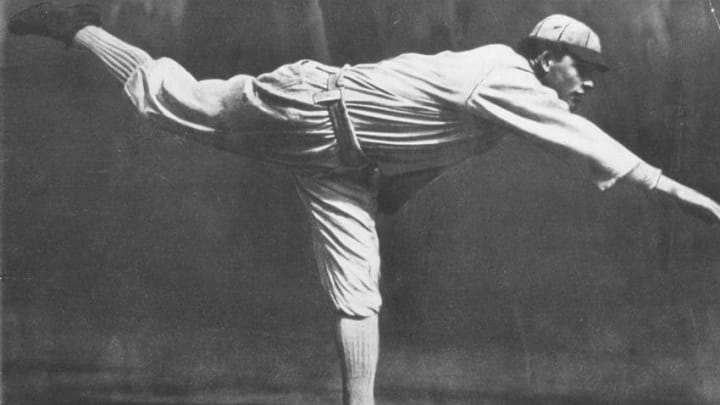 Chicago White Sox pitcher Ed Walsh in 1909. (Photo by Mark Rucker/Transcendental Graphics, Getty Images) /
Mount Rushmore of White Sox starting pitchers: Red Faber
Red Faber's road to Chicago started in his home state of Iowa, where he began his career with the Dubuque Dubs in the Class-B Illinois-Indiana-Iowa League in 1909. In September of that year he was taken by the Pittsburgh Pirates in the Rule 5 draft. The Pirates held his rights for two years before he was sold to Des Moines of the Class-A Western League.
In August 1913, the Chicago White Sox purchased Faber's contract from Des Moines and he broke camp with the team to start the 1914 season, beginning a 20-year career with the club.
Faber made three starts and a relief appearance, working a whopping 27 innings in Chicago's six-game win over the New York Giants in the 1917 World Series, posting a 2.33 ERA and 0.889 WHIP.
He missed much of 1918 after enlisting in the Navy to serve during World War I, spending his entire tour at Great Lakes Navel Base near Chicago. During the 1919 season, Faber struggled to keep weight on and was benched for the 1919 World Series. It turned out he battled the Spanish flu outbreak as well as injuries to his arm and ankle.
When the ball livened in 1920, Faber adjusted well, remaining as one of the last pitchers to legally throw a spitball. In 1921 and 1922, he led the AL in ERA, WHIP and complete games, holding opposing lineups to a major-league best 8.0 hits per nine innings in 1921. He topped 300 innings three straight seasons, 1920-22, while completing 91 of his 116 starts over that span.
He never quite hit that same level of durability for the remainder of his career, but he pitched as a starter through the 1930 season, when he was 41, and worked primarily in relief for another three seasons. At age 45, the White Sox released Faber in February 1934.
After retirement, Faber sold cars and real estate with mixed results before buying a suburban Chicago bowling alley. From 1946-48, he was the White Sox pitching coach.
He was selected by the Veterans Committee to the Hall of Fame in 1964. A smoker from the age of 8, he had two heart attacks and died in September 1976 at the age of 88.