White Sox: Five Potential 2019 Team Most Valuable Player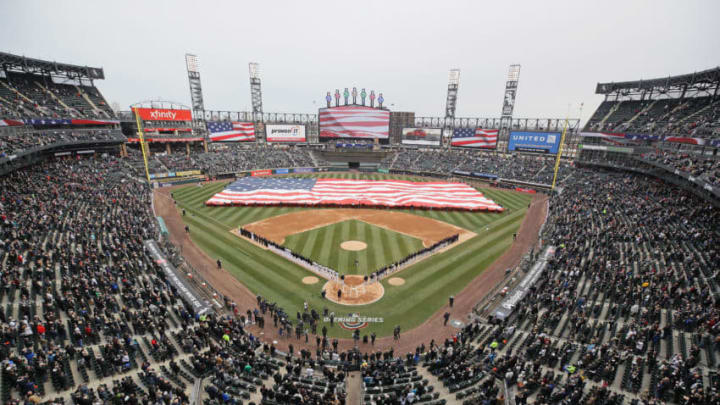 CHICAGO, IL - APRIL 05: Players and fans stand during the National Anthem before the Opening Day home game between the Chicago White Sox and the Detroit Tigers at Guaranteed Rate Field on April 5, 2018 in Chicago, Illinois. (Photo by Jonathan Daniel/Getty Images) /
CHICAGO, IL – AUGUST 19: Tim Anderson #7 of the Chicago White Sox gestures after hitting a two-run home run against the Kansas City Royals during the fourth inning on August 19, 2018 at Guaranteed Rate Field in Chicago, Illinois. (Photo by David Banks/Getty Images) /
Next likely : Tim Anderson
Tim Anderson essentially represented the beginning of the rebuild. When he was called up in 2016, he was expected to set the league on fire. His speed and enthusiasm was both something the team desperately needed.
Unfortunately, Anderson has yet to perform to the original hype. He had a splendid rookie season recording a slash of .283/.306/.432, but his lack of plate patience is what pushed him down to seventh in American League rookie of the year voting. In 431 plate appearances, he only walked 13 times. His lack of ability to get on base is concerning.
It has gotten better as he was able to draw 30 walks in 606 plate appearances last season, but his .281 OBP is still alarming.
A silver lining to take from Anderson's 2018 was the fact that he blasted 20 home runs and stole 20 bases, something no White Sox shortstop has ever done. Adding sneaky power to his already impressive arsenal is quite the tool. He just needs to take more pitches.
Shifting into a leadership role, Anderson needs to adjust in terms of hitting, taking pitches and getting on base. Too many White Sox players struggle with striking out and not drawing enough walks. If Anderson is able to fix this aspect of his game, he could be able to rub off on his teammates and slide more easily into that leadership role, no pun intended.
Timmy is back and ready to get his revenge…again.
Next likely: Eloy Jiménez
It may seem like a mystery as to why Eloy Jiménez is not on the White Sox 25-man roster yet, but at the same time, it is not.
The organization is concerned with his service time and perhaps, as Astros pitcher Collin McHugh tweets, his bunting skills are subpar. Whatever the reason, it is inevitable he will make his major league debut this season. With a .355/.399/.597 slash in 2018 at Triple-A Charlotte, it is clear he is ready for big league competition.
He did struggle this spring with just four hits inat-batsbats, a .154 average, but he smacked two doubles and a home run driving in three.
The hype surrounding Jiménez is real and many fans are excited to see if he can live up to it. His promotion can be viewed as the symbolic beginning of the end of the rebuild for the White Sox so a lot rests on his young shoulders. He might very well take that pressure and use it towards becoming the team's MVP and potentially winning rookie of the year.