Chicago White Sox: Losing Eloy Jimenez really hurts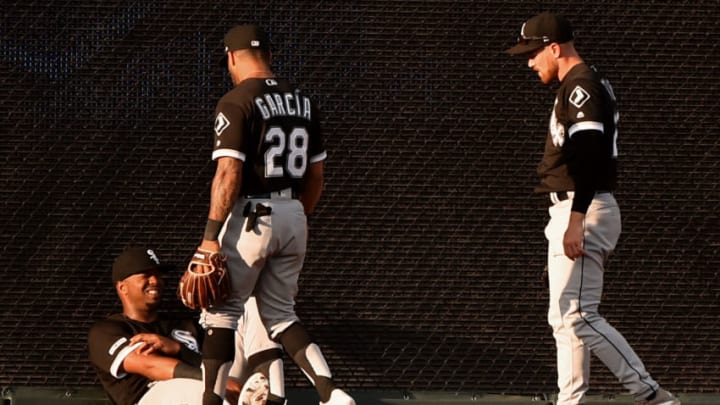 KANSAS CITY, MISSOURI - JULY 16: Right fielder Eloy Jimenez #74 of the Chicago White Sox rest up against the wall as he is looked upon by teammates Leury Garcia #28 and Charlie Tilson #22 in the first inning at Kauffman Stadium on July 16, 2019 in Kansas City, Missouri. Jimenez was injured and left the game after colliding into Tilson while trying to catch a ball hit by Whit Merrifield of the Kansas City Royals. (Photo by Ed Zurga/Getty Images) /
The Chicago White Sox got a bit of ugly news on Wednesday as their young slugger will be on the shelf for a little while as he hits the IL.
The Chicago White Sox are reeling in the standings and losing one of their best hitters isn't great news for a team in that position. Eloy Jimenez is going to take a trip to the 10-day IL and miss some time here for the White Sox. It is a result of an elbow injury he sustained when colliding with centerfielder Charlie Tilson. It was a rough scene to see him leave but hopefully, now he can just get healthy.
The White Sox are going to miss his big bat in the middle of the lineup while he is out. This is a team that is already missing one of their other best hitters in Tim Anderson. These are big blows to the offense and hopefully, they can both return to the lineup sooner rather than later. There is also room for other guys to now step up. Nobody around Major League Baseball feels bad for the Chicago White Sox right now so they just have to deal with it.
This is something that could turn the heads of upper management though because this is now the second time this season that Jimenez will hit the IL due to an injury sustained while playing the outfield. He wasn't acquired by the White Sox to be this great defensive player. Instead, his purpose is to hit baseballs 500 feet and help the White Sox score runs.
I don't know if he will ever be a designated hitter but if he was a DH, he'd be in the lineup right now. It doesn't matter anyway right now because the reality is that he is injured and they need to deal with it. Losing Jimenez is a major loss so hopefully, they can float above water without him.
In sending Eloy to the IL, they called up Ryan Goins from Triple-A. He is hitting .322/.406/.532 with 23 doubles, 10 home runs, and 48 RBIs in 83 games for the AAA Charlotte Knights. The IL All-Star is getting to spend some time in the big leagues so hopefully, he can provide something positive for the White Sox.