Chicago White Sox: Things to watch for as season nears the end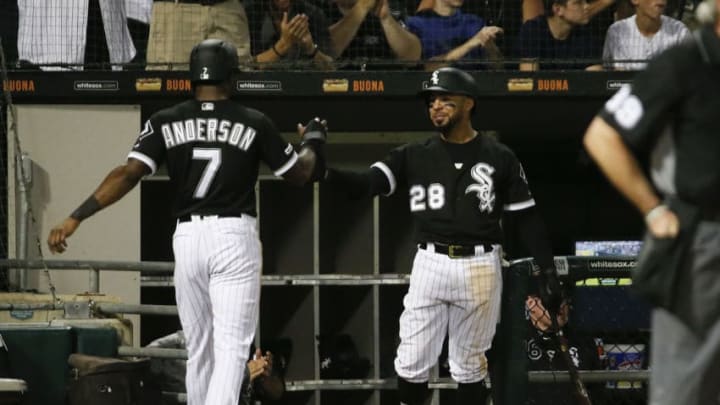 CHICAGO, ILLINOIS - MAY 31: Tim Anderson #7 of the Chicago White Sox is congratulated by Leury Garcia #28 after he scored during the fifth inning against the Cleveland Indians at Guaranteed Rate Field on May 31, 2019 in Chicago, Illinois. (Photo by Nuccio DiNuzzo/Getty Images) /
An overview of what Chicago White Sox fans can hope for as the 2019 season nears its fateful end like a strong finish or Tim Anderson's batting title chase.
The Chicago White Sox have just thirty games left in the season. At 60-72, the team is out of playoff contention, so what reasons are there to keep watching? It turns out there are more than a few.
The first reason to watch is for the team's win-loss record. No, the Sox aren't making the playoffs this year, but the better the finish the more confidence the team will have going forward. To finish with 81 wins and reach the half-water mark for .500 the White Sox will have to finish out 21-9. That's not likely going to happen. Still, it would be nice to win a majority of the remaining games and finish with 76 wins or so and use that as a launching pad for another big improvement next year when they will hopefully compete for the playoffs.
Another thing for the team's win-loss record is to see if they could finish with a better record than the San Diego Padres, which would be an important moral victory after the Manny Machado failure. The White Sox are only a game behind the Padres right now, so it would be nice to finish with a better record than them, mainly to spite their arrogant fans and front office who loudly (if not rightly) bragged when they won last year's free agency bidding.
While they won't contend it would be nice to watch the White Sox serve in a spoiler role and knock their rival Cleveland Indians out of the playoffs. White Sox fans have always found their team and fans to be insufferable so for them to not make the playoffs this year would be a breath of fresh air and could likely lead to a rebuild for Cleveland following this season. Cleveland rebuilding would make the playoff picture for next year's White Sox team a little easier.
Tim Anderson's race for the batting title is another thing to watch. Anderson is hitting .329, right behind the league leaders who are at .335, but unfortunately, he doesn't have enough plate appearances to qualify – yet. A player needs 3.1 plate appearances per game to qualify for the batting title, so Anderson would need 409 to qualify given that the White Sox have played 132 games. He currently has 403, putting him just shy of the mark needed.
He would probably be there already if Rick Renteria hadn't hit him seventh for much of the season but at least recently he seems to be consistently batting him in the top five in the order. The last White Sox player to win the batting title was Frank Thomas way back in '97, so it would be exciting for Tim to get there.
Perhaps the most important thing to watch for the rest of the year is to see whether the White Sox call up Luis Robert for September. They absolutely should do it, but based on the team's track record they probably will not. We will see, but it is most likely that they want his free agency to coincide with Eloy Jimenez's so he probably will not get called up until next year due to service time issues.
If the White Sox want to prove to their fans that they are actually are serious about winning (and the should be by now), then Robert needs to be on the team so they can see how their lineup shakes out and what growing pains he will need to go through. Hopefully, they will make the right choice.