Chicago White Sox correctly looking for two starters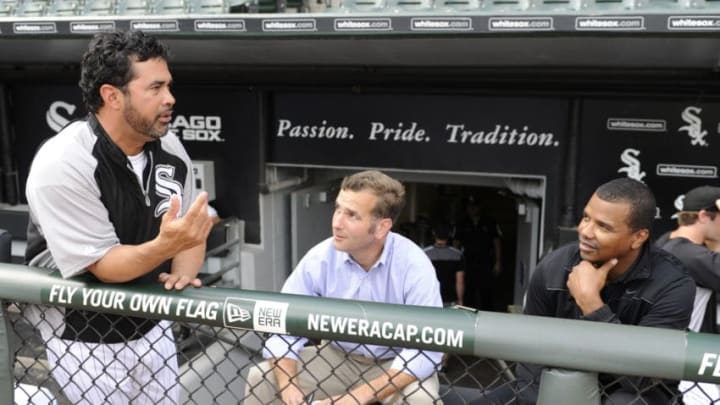 CHICAGO, IL - AUGUST 12: Ozzie Guillen /
Rick Hahn revealed at the GM Meetings on Wednesday that the Chicago White Sox will be pursuing two starters this offseason.
"With [Carlos] Rodon on the IL to the start season and [Michael Kopech] coming back from the injury, we feel good about potentially adding two arms to that mix," Hahn said as detailed by Daryl Van Schouwen of the Chicago Sun-Times.
This is a smart approach to be taking as the team will have Lucas Giolito, Reynaldo Lopez, and Dylan Cease as the only arms ready to start on Opening Day for certain.
If I had to guess, one starter will probably come from the Gerrit Cole, Stephen Strasburg, Zack Wheeler, and Madison Bumgarner tier to fortify the front of the rotation.
The second starter likely would come from the tier right below it that includes Hyun-Jin Ryu (not based on talent, but due to age and injury concerns), Cole Hamels, Rick Porcello, and Rich Hill.
I suppose the team could reasonably look at Ivan Nova for the second starter too, although it would be wise to aim higher than an innings eater to stabilize the rotation going forward.
Doing this allows Kopech and Rodon to be eased back in this season without any need to rush back. On top of it, it allows competition to emerge during the regular season if someone is underperforming.
With a young pitching staff in which Cease had a 5.79 ERA over 14 starts and Lopez had a 5.38 ERA over 33 starts, it is more than plausible that one or both of them could regress or at least struggle to break out.
Furthermore, having a plethora of starters could actually do wonders for the bullpen as they could transition one or more of them into a relief role at some point.
Obviously, what a GM says at this point in the offseason could very well not mean anything. But, Rick Hahn and the Chicago White Sox organization appears to have the right idea of how to fix their starting rotation.