White Sox: Well represented on Hall of Fame ballot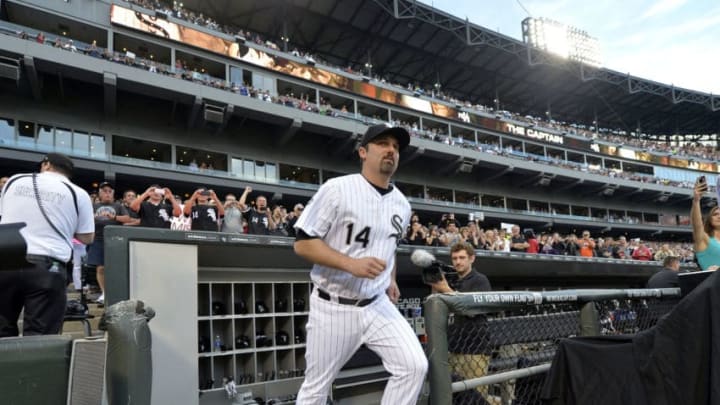 CHICAGO, IL - SEPTEMBER 27: Paul Konerko #14 of the Chicago White Sox runs onto the field as he is introduced for a pre game honoring his career before the game against the Kansas City Royals at U.S. Cellular Field on September 27, 2014 in Chicago, Illinois. The White Sox captain is set to retire at the end of the season. (Photo by Brian Kersey/Getty Images) /
The Chicago White Sox haven't been that good as a team in a long time but there have been some great players to come through the south side.
The Major League Baseball Hall of Fame is probably the hardest Hall of Fame to get into amongst the four major sports. They released their 2020 ballot on Monday morning and there is a lot of White Sox flavor amongst the names on the list. There are also some amazing players on the list that never put on a Chicago White Sox uniform. It would be nice to see some White Sox flavor in the 2020 class so hopefully things can go our way.
The leader amongst all White Sox players on the ballot is of course none other than Paul Konerko. He is one of the very best players in White Sox history. Fans of this team around the world would be overjoyed to see him get it.  He might not be a first-ballot Hall of Famer but he certainly deserves some consideration to get in eventually. He hit 439 home runs in his Major League career. 432 of those are with the White Sox which is good for second in team history, only behind Frank Thomas. He had a career slash line of .279/.354/.486 and 1412 RBIs. He has a World Series title, a 2005 ALCS MVP honor, and was a six-time All-Star.
Konerko's grand slam in the 2005 World Series is one of the most famous moments in team history and he will always be remembered for it. He has a statue at Guaranteed Rate Field because he is so adored so hopefully, he can one day receive baseball's highest individual honor. It would make many fans of this team very happy.
Adam Dunn, Andruw Jones, J.J. Putz, Manny Ramirez, Sammy Sosa, and Omar Vizquel are the other players on the ballot who have played for the Chicago White Sox. Some of them had a longer stint than others but there is no doubt that the team is well represented on the ballot. Hopefully, a few of these guys can get in over the next ten years, especially Konerko.