White Sox: December brings hope to all fans of this team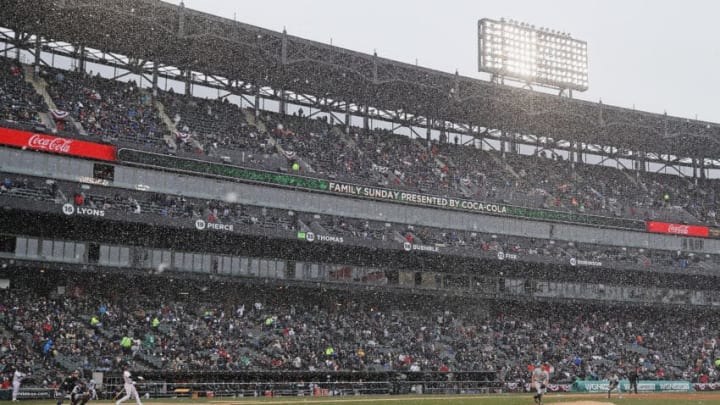 CHICAGO, IL - APRIL 05: Snow falls during the Opening Day home game between the Chicago White Sox and the Detroit Tigers at Guaranteed Rate Field on April 5, 2018 in Chicago, Illinois. (Photo by Jonathan Daniel/Getty Images) /
The Chicago White Sox head into December with hopes of improving their roster into a playoff-caliber team and there is lots of hype surrounding them.
The Chicago White Sox are a team that hasn't had much on-field success over the last decade or so. They believe that it is all about to change as they are almost done with a rebuild that has seen some ugly times on the field but they have done everything right. The hope is that December is the month where the offseason clicks everything together.
As everyone gets ready for the Holidays, Rick Hahn and his staff are doing their due diligence on what they believe they need to add to this team. They already added Yasmani Grandal via free agency and expect him to come in and make an impact right away. They also signed Jose Abreu to a three-year contract extension so you can say that the money is flowing. There is still belief out there that they are looking to address the right field and designated hitter positions as well as potentially adding a high caliber starting pitcher.
There are plenty of big-name options out there for the White Sox to try and nab. There is a lot of people that believe they will sign at least one of their top suited guys. They have two elite catchers, a loaded system of talent that will make an impact at the Major League level in 2020, and a great city to live in to sell to potential free agents. Those are all things that White Sox fans are hoping that Rick Hahn is able to use as bait to get guys to come to the south side.
The White Sox are done being the second cities' second team. They are in this to win this in 2020 and that is why December brings so much hope. They have a high caliber starting lineup ready to go for the season and now they are just looking to supplement it with some more talent and leadership. December could be the month that allows them to tighten up those screws.