White Sox: Looking back at Chris Sale trade that started the rebuild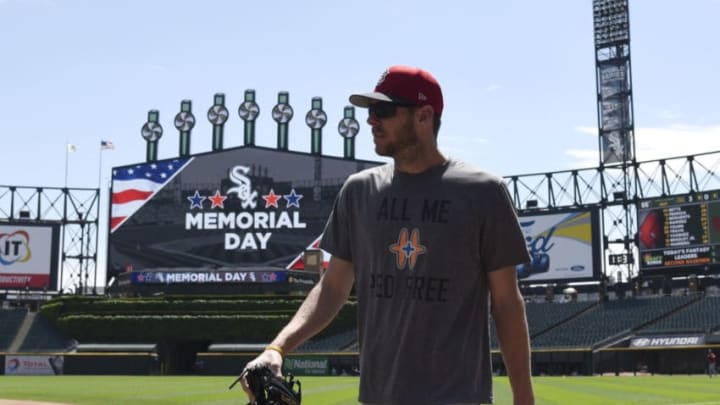 CHICAGO, IL - MAY 29: Chris Sale #41 of the Boston Red Sox leaves the field after warming up before the game against the Chicago White Sox on May 29, 2017 at Guaranteed Rate Field in Chicago, Illinois. (Photo by David Banks/Getty Images) /
The Chicago White Sox made a huge trade that sent their organization back by design so they can move forward. This was three years ago today.
The Chicago White Sox will forever see December 6th, 2016 as the day that the rebuild began for the organization. They were a mediocre team for the first half of the decade and they had finally had enough. They started off the 2016 season on a high note but fell way off as the season went on so they decided to make a bunch of changes.
It started by sending their superstar pitcher Chris Sale to the Boston Red Sox. December 6th, 2019 is the three year anniversary of this transaction that sent Sale to Boston for Yoan Moncada and Michael Kopech. This trade has done wonders for the organization and is a symbol of what they have built and are currently building.
From that moment on they were embracing the idea of trading everyone away and being bad. They were pretty bad over three years but now they are looking up. Yoan Moncada has emerged as not only one of the best players in the organization but one of the best players in the league. He came in third place in the American League batting title race which shows how impactful he can be.
The Red Sox ended up winning the World Series in 2018 with Sale as their ace. He also threw the last strike that earned the victory. You can never say that Boston lost the trade for that face and they have Sale locked up for a long time. He didn't really have a great year in 2019 while Moncada was tearing it up but that doesn't mean he can't bounce back in 2020.
Michael Kopech got his call up at the end of the 2018 season and was really good. He was shut down for the end of that season after a few starts and all of the 2019 season to recover from Tommy John surgery. This was a bit of a setback but there is no doubt that he can go on and be a top of the rotation level pitcher. That would make the White Sox really happy with how this trade worked out. They are already happy with having one of the best third basemen in the league with Moncada but a great starter in Kopech is even sweeter.
The White Sox made this trade and put all of their faith in Rick Hahn to break down the roster to nothing and build it back up. That has now happened as they believe that they are going to be a great team in 2020. It all started three years ago today when they pulled the trigger to send Sale to Boston.