Chicago White Sox: Astros scandal is the biggest since 1919 Black Sox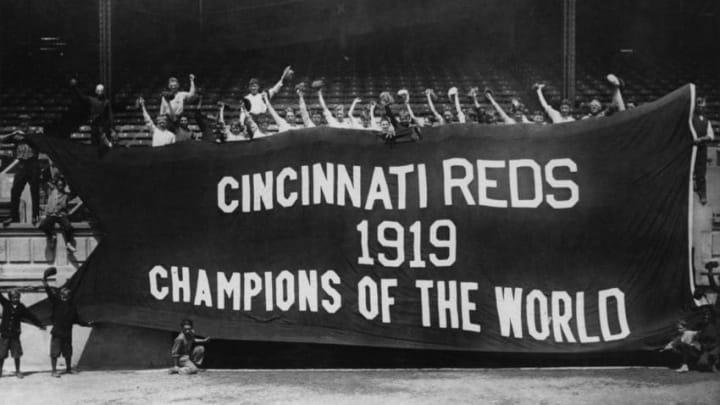 The victorious Cincinnati Reds hold up a banner after beating the Chicago White Sox in 1919's infamous World Series. (Photo by FPG/Getty Images) /
The Chicago White Sox had a major scandal in 1919 and the Houston Astros are the modern-day version of that major baseball incident.
The Houston Astros will look at January 13th, 2020 as the darkest day in franchise history. They had a harsh punishment come down on them due to their involvement in a cheating scandal. They used technology to steal signs from the opposition and relay them to their hitters. It gave them a significant advantage that allowed them to be one of the elite teams in the entire league. The punishments that came down on them are the biggest since the 1919 Chicago White Sox had the "Black Sox Scandal".
The Astros were penalized hard for this. The MLB came down on them with suspensions to manager A.J. Hinch and general manager Jeff Luhnow. They lost their first-round draft picks in 2020 and 2021. They were also fined five million dollars. It is as harsh of a penalty as we have seen in a long time. A little bit after the announcement, Astros owner Jim Crane fired both Hinch and Luhnow. It is dark times in Houston right now. They are going to have to build this broken organization back up and it may take a while.
This is a huge punishment handed out by the MLB. Two people were suspended for an entire year in the same punishment and they were both fired. This is as big of a scandal since the Black Sox in 1919 because of that fact. Those guys were tricked into losing the World Series on purpose to the Cincinnati Reds because gamblers paid them to do so. There were eight players banned for life from baseball for doing so. This punishment isn't as harsh but for modern times it is pretty harsh.
There is also the steroid scandal in the early 2000s that will come to the minds of fans. The thing with steroids is that you still need to be somewhat good at baseball in order for that to be effective. The Astros manipulated baseball games to give every single one of their hitters a significant advantage. Many players have been severely punished over the years for the use of PEDs so you can argue that these are the three biggest scandals in MLB history.
The comparison between the Astros and the Black Sox is not a fun one for fans of either side. Each team has had an extremely dark day in their franchise history. The White Sox are 100 years removed from it but there are players who are no longer with us that are still banned from baseball. One of them in particular, Shoeless Joe Jackson, was one of the best players in franchise history and he is unable to ever be recognized for it. The Astros will always have an asterisk next to their 2017 World Series title in a similar way.