Why Paul Konerko fell off the Hall of Fame Ballot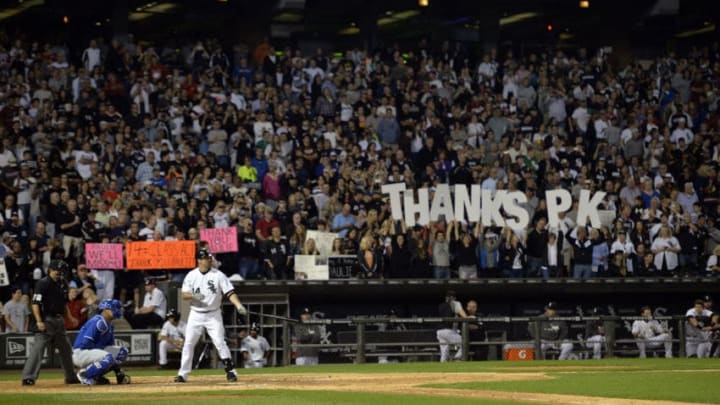 CHICAGO, IL - SEPTEMBER 27: Paul Konerko #14 of the Chicago White Sox receives a standing ovation from the fans as he bats during the third inning against the Kansas City Royals at U.S. Cellular Field on September 27, 2014 in Chicago, Illinois. The White Sox captain, who is retiring at the end of the season, was honored in a pre game ceremony. (Photo by Brian Kersey/Getty Images) /
Despite being one of the greatest players in Chicago White Sox history, Paul Konerko wasn't able to gather any hall of fame support as he only got 10 votes.
The Baseball Hall of Fame has refused to consider letting in Chicago White Sox great Shoeless Joe Jackson, considering him to be ineligible despite the fact he died after his lifetime ban was over. Letting him in would be a gateway to letting in Pete Rose and they don't want to see that happen.
But if they won't let Shoeless Joe Jackson into the hall of fame, would they perhaps let in the man who broke the curse of Shoeless Joe himself, Paul Konerko? Apparently not, as Paul Konerko fell off the hall of fame ballot that was released on Tuesday, as he got ten votes and 2.5% of the vote. He deserved every single one of those ten votes, but alas, he needed to get ten votes more.
He should have gotten the votes to stay on the ballot, as some of his numbers are similar to other Hall of Fame members. Consider batting average and home runs:
Player                AVG  HR
Ralph Kiner     .279  369
Tony Perez       .279  379 
Paul Konerko  .279  439
Perez and Kiner are in the baseball Hall of Fame, yet Konerko can't even stay on passed the first ballot. These voters think the game was tougher in the "good old days", despite the fact that Major League Baseball is much more global and difficult to play now than ever before.
That being said, it was fully expected that the east coast area writers would not give Konerko his due. What was really disappointing was that Chicago writers really didn't vote for him. If just ten more Chicago-area writers had voted for Konerko, he could've stayed on the ballot another year and gotten another chance as he should have.
In the end, it perhaps didn't matter as Konerko was probably never going to get in the Hall of Fame anyway. Despite having numbers comparable to several Hall of Fame sluggers, he doesn't have a single statistic that really stands out. By today's standards, a first baseman isn't going to get in the Hall of Fame unless they reach 500 Home Runs or a 900 OPS, never mind the fact that Tony Perez is well below those. Konerko came close but fell short on both accounts with 439 Home Runs and a career .841 OPS. Solid numbers, but just not quite enough by the current standards.
If he had just hit 61 more home runs over the course of his career, it would be a different story, but he did not and won't be in the Hall of Fame any time soon. Regardless of that fact, he will always be a Hall of Fame player in the hearts of many White Sox fans.
Fortunately, we can push for Mark Buehrle when he's on the ballot next year. Hopefully, this time Chicago writers and those around the country will be more supportive of him than they were of Konerko. Buehrle has 214 wins, a no-hitter, a perfect game, and a 61 pitching WAR. However seeing the way the 2005 World Series Champion White Sox continues to be disrespected, the ace of that pitching staff will continue to not be taken seriously.
Other White Sox players with a chance to get in the hall of fame sometime soon include Dick Allen, Minnie Minoso, and Omar Vizquel. Though Vizquel is more famous for his time in Cleveland he played for the White Sox and got 52% of the vote this year. He could get to 75% sometime pretty soon.
The next best percentage that any former White Sox player earned was Manny Ramirez, who got 28% of the vote and won't get in until David Ortiz gets elected. If Ortiz and Ramirez get elected, hopefully, the voters will reward sluggers who actually played the game cleanly, like Paul Konerko.