Chicago White Sox: Is Mookie Betts an option for 2021?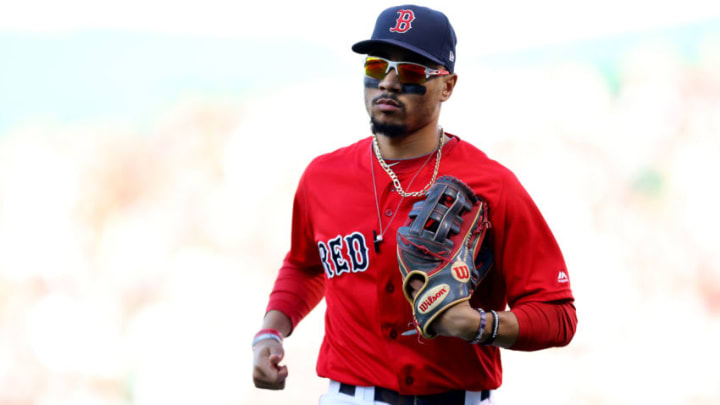 BOSTON, MASSACHUSETTS - SEPTEMBER 29: Mookie Betts #50 of the Boston Red Sox runs to the dugout during the fifth inning against the Baltimore Orioles at Fenway Park on September 29, 2019 in Boston, Massachusetts. (Photo by Maddie Meyer/Getty Images) /
The Chicago White Sox might be in the market for a long term right fielder after this season and Mookie Betts could be an option.
The Mookie Betts trade finally happened. He was sent from the Boston Red Sox to the Los Angeles Dodgers in a three-team blockbuster trade. Two prospects went to Boston while Kenta Maeda went to the Minnesota Twins. It was a huge day in the sport as some teams look monumentally different now. There is a clear frontrunner in the National League, while the Twins get a little closer to the Chicago White Sox in the AL Central race.
The Betts stuff is all fun and games for Los Angeles right now but there is still a possibility he doesn't stay there long term. The reason Boston traded him is that they didn't wanna lose him for nothing after the 2020 season, which looked bleak as it is. So if he does hit the market, the Dodgers better be sure to finally win the World Series this year. It will be a massive failure if they don't.
In case you didn't know, right-field is the biggest question mark for the Chicago White Sox right now. They are going to use Nomar Mazara in that position but there is also a chance they platoon him with someone else. No matter what they do with the position in 2020, they might be looking for a long term answer for 2021 and beyond. Mookie Betts could be that guy. The White Sox would be very smart to try and make him their biggest free-agent signing in team history.
The White Sox are already loaded with great young players like Yoan Moncada, Tim Anderson, Eloy Jimenez, and Luis Robert amongst others, so this would be a great place for him to chase championships. If the Sox acquired Betts, he would probably be the leadoff hitter of one of the best lineups in the whole league. The White Sox should make trying to sign him something high on their to-do list. If money is all that Betts wants, the White Sox should go that route.
He has already won so there is a good chance that money will do most of the talking. According to multiple reports, there have been numbers north of 400 million discussed in regards to Betts. That would be a lot of money for one player but the White Sox would have to decide if he puts them over the edge. It is definitely an intriguing thing to think about at this time.