Chicago White Sox: James McCann should have to earn job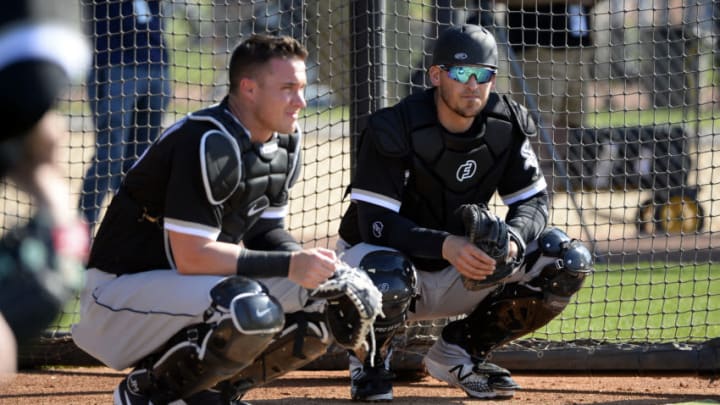 (Photo by Ron Vesely/Getty Images) /
Every team has position battles in spring training and the Chicago White Sox are no exception. The backup catcher role should be one of those spots up for grabs.
Once the Chicago White Sox signed Yasmani Grandal this past offseason, it was expected that 2019 All-Star catcher James McCann would be a superb backup.
However, there are many reasons for concern with McCann and there isn't a lot of upside to keeping him at this stage.
For starters, his defense is atrocious behind the plate as can be seen by his 107th ranking -10.2 FRAA as detailed by Baseball Prospectus.
On top of it, the "significantly improved" McCann really only had one good half of a season at the plate.
After registering a .873 OPS in the first half, the 29-year-old had a lowly .695 OPS in the second half.
While the second number is serviceable for a catcher, it is below-average overall and, coupled with bad defense, makes him a net-negative.
It might be nicer to believe that the first number is more indicative of his future output for the South Side, but his previous history would suggest otherwise.
Prior to the 2019 season, McCann's highest single-season OPS was .733 in 2017 and his career OPS was .653.
In fact, his worst season was right before he joined the White Sox as he had a .581 OPS for the Detroit Tigers that, ultimately, led to him being non-tendered after the 2018 season.
Advanced metrics would even suggest he is due for significant regression in 2020 on the offensive side as he had a very high .359 BABIP in 2019 (FanGraphs).
All of those are just reasons to move on from McCann without even addressing other internal options, which there are actually a decent amount of.
Zack Collins is the most attractive one by far for a variety of reasons.
Meanwhile, Yermin Mercedes is having a phenomenal start to his spring as he is currently 3-for-7 with a solo home run.
Heck, there might be an argument to carry three catchers with the 26th roster spot without including McCann.
Seby Zavala is also on the 40-man roster and already has a homer and three RBI this spring.
The point is, McCann should by no means be handed the backup catcher job, especially considering he's the highest-paid option of those four, making $5.4 million in 2020 (Spotrac).
Not many teams have the luxury the Chicago White Sox have so McCann could certainly become trade bait if the organization decides he's not their best backup catcher option.
But, with that being said, the Chicago White Sox should consider all of their options for their backup catcher spot this spring and not immediately give it to James McCann.