Chicago White Sox: Former ace Chris Sale needs Tommy John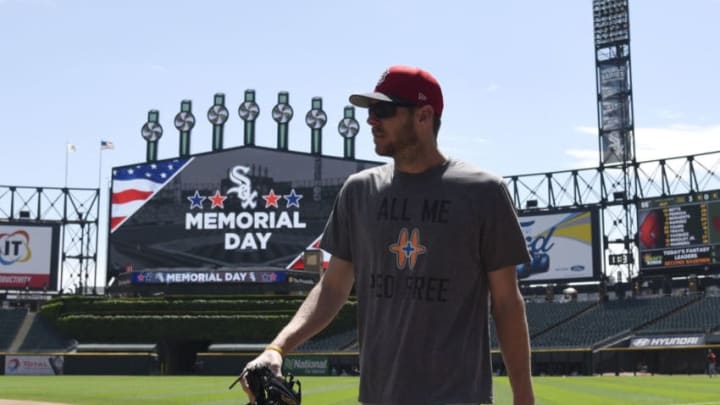 CHICAGO, IL - MAY 29: Chris Sale #41 of the Boston Red Sox leaves the field after warming up before the game against the Chicago White Sox on May 29, 2017 at Guaranteed Rate Field in Chicago, Illinois. (Photo by David Banks/Getty Images) /
The former Chicago White Sox ace Chris Sale was just announced to need Tommy John surgery. The former White Sox star is going to miss significant time.
The Chicago White Sox used to have one of the very best pitchers in all of baseball on the mound every five days with Chris Sale. He was the face of the franchise for a very long time. It was Clayton Kershaw as the best pitcher in baseball and then Chris Sale made a compelling case to be noted as the second best. Well, he is also the face of the White Sox rebuild.
The White Sox sent Chris Sale to the Boston Red Sox in a trade that delivered Yoan Moncada and Michael Kopech to the White Sox. It will never be a failed trade for the Red Sox because they won the World Series in 2018 with Sale as their ace. He also threw the last out of that series to win Boston's fourth title in a span of 20 years.
With that said, the trade appears to be very short term for the Red Sox because Chris Sale is going to need Tommy John surgery. He is going to be out for a notable amount of time as he recovers from this massive surgery. The Red Sox announced the news on Thursday afternoon. It is not good but it was inevitable for Sale to have this surgery. He might have been okay enough to pitch this season but with Boston's uncertainty this year along with the fact that we don't know when the coronavirus pandemic is going to be over, there is no better time to get it over with than now.
The Red Sox may have jumped the gun with Sale's massive contract but he is still a very good pitcher when healthy. He should be able to return to that form when he comes back. White Sox fans should have nothing but love for Sale because of how great he was for them for such a long time. His trade also marked the first step of the rebuild that got the White Sox to where they are today. Having a superstar in his prime to trade away was perfect. We wish Sale a speedy and healthy recovery.