Projecting future Chicago White Sox rotation with Garrett Crochet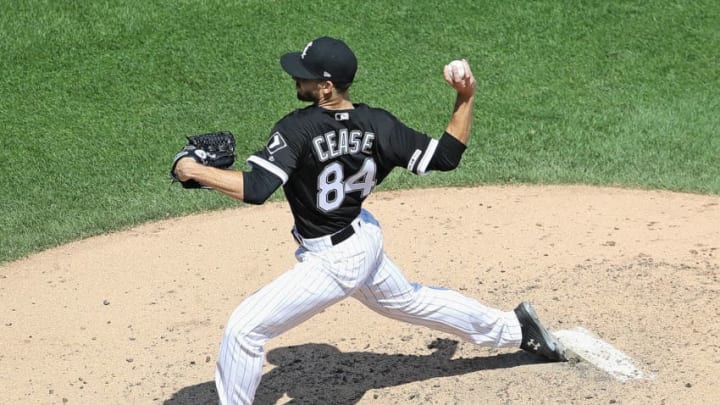 CHICAGO, ILLINOIS - JULY 03: Starting pitcher Dylan Cease #84 of the Chicago White Sox delivers the ball in his Major League debut against the Detroit Tigers at Guaranteed Rate Field on July 03, 2019 in Chicago, Illinois. (Photo by Jonathan Daniel/Getty Images) /
The Chicago White Sox might have a really stacked rotation one day if everyone, including Garret1t Crochet, reaches their potential.
The Chicago White Sox learned in 2005 that if you have a dominant pitching staff coupled with a good starting lineup, you have a chance to win in the playoffs. That seems to be part of what they are building right now. Of course, they have stud position players like Yoan Moncada, Tim Anderson, Eloy Jimenez, and Luis Robert amongst others but there is some great pitching ready to take a step too.
Well, they added what they hope will turn out to be another stud pitcher via the 2020 MLB Draft on Wednesday night. They drafted Garrett Crochet with the 11th overall pick and he makes the future of this rotation very exciting. He was drawing comparables to Chris Sale during the draft and White Sox fans know exactly why that is exciting. He doesn't exactly have to be Sale because that might be unrealistic but he can be a good pitcher with similar skills.
Imagine if he even became 80 percent of Chris Sale and joined this rotation. He would be joining the likes of Lucas Giolito, Michael Kopech, Dylan Cease, Reynaldo Lopez, Dane Dunning, and Carlos Rodon. Then, you never know who else joins the group over the next few years as well. It would be awesome to see all of these guys playing on the same team one day. Even if a few of them were forced to be relievers because of space or even if they had to trade one or two of them, there is plenty of talent at the position to be excited about.
Crochet might be a little different than some of the recent young stud starters in terms of how the White Sox handle him. They rushed Sale to the big leagues but used him as a reliever before he developed into one of the best pitchers in the team's history. That could be exactly how the White Sox deal with Crochet. Guys like Giolito, Cease, and Kopech all just got starts to begin their MLB career but every player is different.
If these guys really start to come together, they could form a really good rotation. With Giolito and Kopech leading the way, it would be awesome to watch this group grow together. It is a long way away and there it is a lot of work to do but it will surely be fun to watch.