Chicago White Sox News: Two players receive monthly MLB honors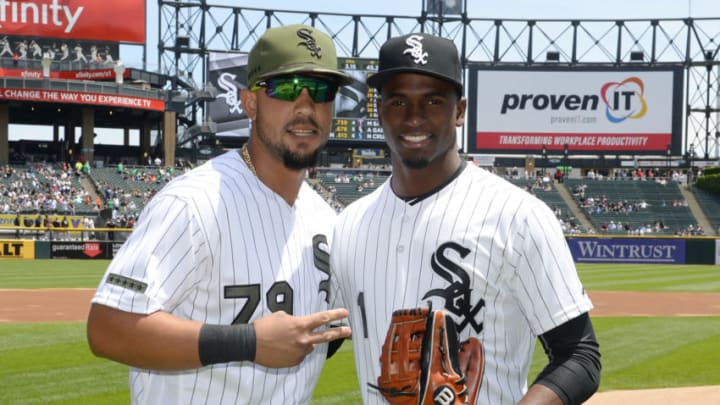 (Photo by Ron Vesely/MLB Photos via Getty Images) /
Two players received monthly honors for their outstanding months with the Chicago White Sox.
The Chicago White Sox finished off August in first-place of the American League Central Division. Baseball is a team game so it took an effort from everyone on the roster but two guys stood out above the rest as far as position players and they are being rewarded for it. Jose Abreu was named the American League "Player of the Month" and Luis Robert was named as the American League "Rookie of the Month". It is so cool to see two prominent members of this team recognized by the league.
Abreu was sensational this month. You would have to think that by receiving this honor after one of the two months of the season, he has to be in the mix for the A.L. MVP Award. In the month of August, he set club records for home runs in a three-game series with six. It was an amazing feat to help beat the Chicago Cubs. He also set the record for most home runs in a two-game span with five. Those big moments led to some of the best numbers for any hitter in all of baseball.
Luis Robert's first full month of an MLB season went about as good as you can get. He slashed .298/.348/.612 with eight doubles, 24 RBIs, 10 home runs, 22 runs scored, and four stolen bases. Those first 33 games of his career were incredible and it is good to finally have him up with the Major League team. On top of all of these offensive achievements, he has been playing some tremendous centerfield. He truly is the real deal for the White Sox.
These two are so important to the success of this team going forward. Luis Robert has the legit potential to be one of the best players in the world and he is going to do it all as a member of the Chicago White Sox. Abreu is there right now to lead the team both on and off the field and he is doing a wonderful job. Hopefully, these two along with the rest of their teammates, are able to come together and get this team into the playoffs.