Chicago White Sox: A chance to clinch a postseason berth today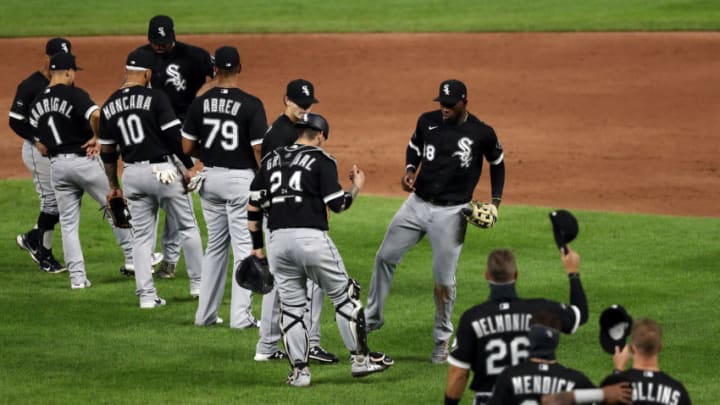 KANSAS CITY, MISSOURI - AUGUST 01: Luis Robert #88 of the Chicago White Sox celebrates with teammates after the Chicago White Sox defeated the Kansas City Royals 11-5 to win the game at Kauffman Stadium on August 01, 2020 in Kansas City, Missouri. (Photo by Jamie Squire/Getty Images) /
The Chicago White Sox have a chance to clinch a spot in the postseason today.
As you wake up today, if you are a Chicago White Sox fan you are probably thrilled that they were able to come up big over the past two nights against a very good Minnesota Twins team. It was a nailbiter on Monday night and a pretty dominant win on Tuesday night. They were able to win two completely different types of games which is the making of a very good team. Well, tonight they have a chance to clinch a postseason berth for the first time since 2008.
This is already going to be the first year that they finish over .500 since 2012 but they didn't make it to the playoffs that year. This year, they are probably one year early in terms of their rebuild timeline but that is okay. They are built for a long period of success and the best days are ahead of them.
So, let's get to the scenarios. The first team out of the playoffs is the Seattle Mariners. Their game was canceled on Tuesday night so they will play a doubleheader tonight against the San Francisco Giants. If the Mariners lose both games, the White Sox clinch no matter what. If they lose one of the two games and the White Sox win their game against the Minnesota Twins, they will clinch. If they combine to go 3-0, the White Sox magic number will fall to one and they will have to just do it themselves on Thursday.
It would be really cool to see the White Sox be the first team to clinch a playoff berth in the American League. They have a good chance at the one seed if they are able to keep up this good play. They have the pitching, hitting, and fielding to get it done but they just have to execute the rest of the way. It is so exciting knowing that they are going to the playoffs this year but it will be really special to watch them clinch. Hopefully, it is tonight.