Chicago White Sox get no help from Chicago Cubs this weekend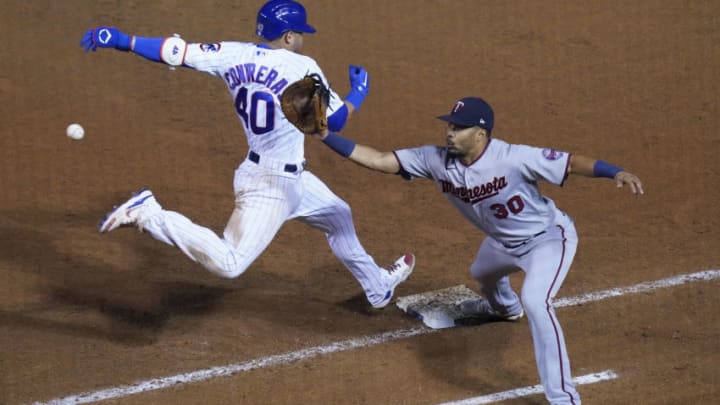 CHICAGO, ILLINOIS - SEPTEMBER 20: Willson Contreras #40 of the Chicago Cubs is safe at first base while LaMonte Wade Jr. #30 of the Minnesota Twins waits for the throw during the ninth inning of a game at Wrigley Field on September 20, 2020 in Chicago, Illinois. (Photo by Nuccio DiNuzzo/Getty Images) /
The Chicago Cubs didn't help out the Chicago White Sox at all this weekend.
It is very rare to see a Chicago White Sox fan actively rooting for the Chicago Cubs at any point. Well, the smart fans were rooting for the northern Chicago baseball team to defeat the Minnesota Twins in an effort to win a division title. The White Sox went into the series with a division magic number of six and was only able to reduce it to four because of 1-2 weekends by both Chicago teams. Now, the White Sox need to hope for some luck this week as the Twins have the Detroit Tigers while the White Sox have the Cleveland Indians.
The White Sox lost a series to a red-hot Cincinnati Reds team who is now 8-2 in their last ten games. The Cubs fans liked to make fun of the White Sox for struggling against the Twins early on but they quickly learned how good Minnesota is and how tough they are to beat. The White Sox went 5-5 against them this season and it took a 3-1 final series against them to get it to a .500 head to head record.
The Cubs were lucky enough to only face the Twins those three times and they went 1-2. Besides the White Sox, the Twins were the best team the Cubs faced all season long and they dropped the ball. They are a hard team to contain and the Cubs couldn't handle it.
The worst part about it is the fact that the Cubs didn't help out the White Sox at all. The Sox could have had their magic number reduced even further if the Cubs would have just taken care of their business against the Twins but they didn't. They had Kyle Hendricks, Alec Mills, and Yu Darvish make starts and you probably couldn't ask for a better trio to start for them.
They weren't enough so it looks like it is back to being completely out on the Cubs. They will meet again next weekend to close out the 2020 season. This might be an extremely important series for both teams as they each look to lock up Central Divison titles. Hopefully, we don't have to root for them anymore for a long time and can take care of them next weekend.