Chicago White Sox: Elimination in game three stings big time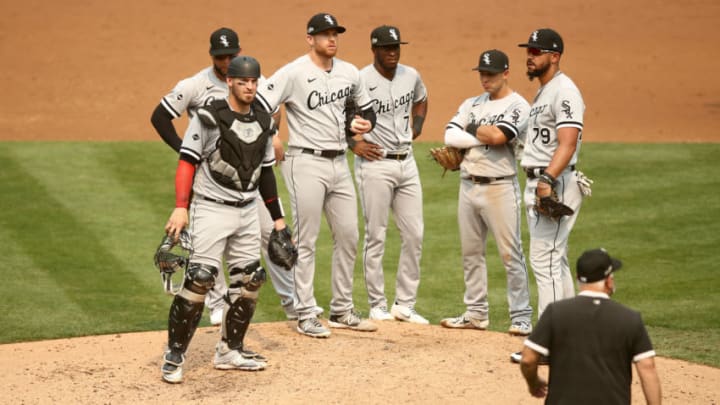 (Photo by Ezra Shaw/Getty Images) /
The Chicago White Sox have been eliminated by the Oakland A's in three games.
The Chicago White Sox have been eliminated by the Oakland Athletics. It was a three-game series and went the distance but the White Sox weren't able to hold off the American League West champions. There is little doubt that this is just the beginning for the White Sox but it still hurts at the moment. They had an opportunity to do something special in their first year of relevancy but they came up just short. They will be back but it certainly stings at the moment.
When you look back at a lot of the teams that have built things the way the White Sox have, most have gone through what the White Sox have gone through this year. Fans don't want to hear that right now but it is the truth.
So, the game. The White Sox led 3-0 which makes the sting of elimination even worse. Dane Dunning got off to a rough start but Rick Renteria wasn't tolerating it for too long. Garrett Crochet came in and didn't have the velocity that we are used to seeing from him. He came out after a short while with "forearm tightness" which is concerning. We have to wait and hope that he doesn't need the surgery that shall not be named.
Eloy Jimenez started the game as well. He hit a big-time double but needed to come out of the game because his foot was acting up on him. It wasn't awesome to see because the White Sox could have really used his bat later in the ballgame. Jimenez had a great year but it was tough to see it end like that.
There were a lot of things that sunk the White Sox in this final game but the pitching was the worst of it. They didn't have one guy who they could trust to take the ball and get it done as the starter. A third starter is going to be one of their biggest offseason needs this year and there is no doubt about it. They can't be having bullpen days in the playoffs because that is how you get to walking in multiple runs in one inning or giving up big two-run home runs. That can't be happening and will not be happening in 2021.
As tough as it was to end the season like that, at least we were able to have a season. COVID-19 put a lot of that possibility in doubt. The White Sox got through it and was one of the best teams in baseball. This is going to be the biggest offseason of the entire process because now it is time (even more than last winter) to go out there and make the necessary additions to make 2021 a potential World Series year.