Chicago White Sox: We should still look at 2020 as a success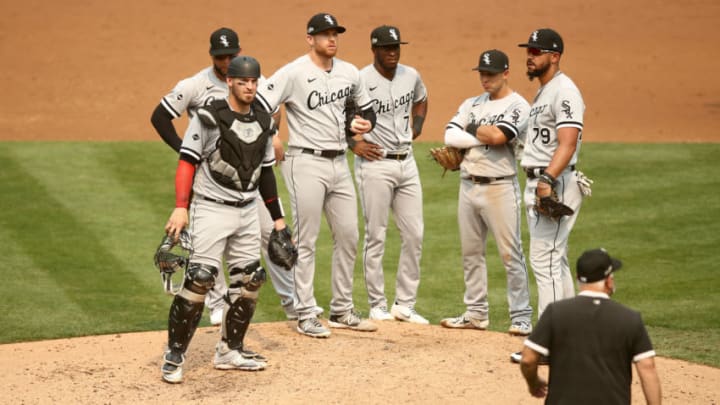 (Photo by Ezra Shaw/Getty Images) /
The Chicago White Sox season is over but there is no need to be down on the team.
The 2020 Chicago White Sox season has unfortunately come to an end. After taking a 1-0 lead against the Oakland A's in this Wild Card Round, they lost two straight games en route to getting eliminated.
While it can be discouraging watching your favorite team get eliminated, White Sox fans should be excited about this team going forward. They have some real pieces in place and with just a couple of more moves can be a real World Series contender.
When I look back on this 2020 Chicago White Sox season, I look at it as a success because of how much they really exceeded my expectations. Coming into 2020, before the pandemic I was expecting this team to be competitive but I still felt like they would miss the playoffs.
With the announcement of the expanded playoffs, I thought the Sox had a real good shot of at least getting a Wild Card spot and that was exactly what they did. After a slow start over the first couple of weeks, they really burst onto the scene in August.
They were one of the hottest teams in all of baseball going 19-9 in the month of August and all of their stars were performing well. Luis Robert, James McCann, Eloy Jimenez, Tim Anderson, Jose Abreu, Lucas Giolito, and Dallas Keuchel were on fire and it looked like the White Sox couldn't be stopped.
The Chicago White Sox came back down to earth in the month of September, going 13-12. Luis Robert, in particular, was really struggling. After playing great to start he seemed to hit that rookie wall in September, only batting .136 with an OBP of .237 and a slugging percentage of .173. Now, these numbers shouldn't be an indictment of Robert's talent because he is on the path to stardom.
Another surprise from this season was that the White Sox had two MVP candidates on their team playing great baseball. Tim Anderson started the year on the sidelines dealing with an injury but picked up right where he left off last year once he joined the team. Abreu had his best season in years and is one of the front runners for the award in 2020.
Jose Abreu was a stud through the entire 60 game sprint that was the 2020 season. Boasting a batting average of .317, 19 home runs, and 60 RBIs, there is no doubt this season was one to remember. This was really his best season in the big leagues. With some of the chatter in the offseason of people wanting him out of town, it was great to see. Not only was he their best player in 2020, but he was also the leader of the team along with Dallas Keuchel.
Yes, as a Sox fan 2020 ended in a disappointment because we saw what this team is capable of but it is also a very exciting time to be a fan of the team with how bright their future looks. The Sox rebuild is finally over and they are in a win-now window with developing players and a front office that is ready to make moves. It's a truly special time to be a White Sox fan.