Chicago White Sox: Both catchers nominated for Gold Glove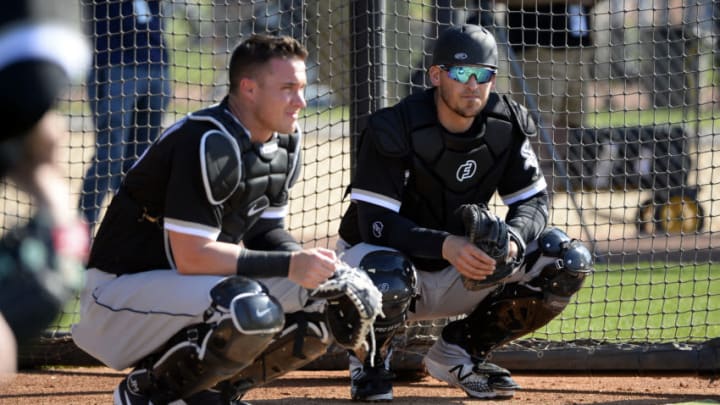 (Photo by Ron Vesely/Getty Images) /
The Chicago White Sox have two catchers that are nominated for a Gold Glove.
Saying this might really worry some Chicago White Sox fans but they really had one of the best catcher duos in all of Major League Baseball in 2020. In fact, it might have been the best duo in the league as both James McCann and Yasmani Grandal were nominated for the Gold Glove. The reason it might worry some is the fact that James McCann is on an expired contract. Well, that is a topic for a different day but for now, we can celebrate what they were in 2020.
We know that both of them were fantastic hitters throughout the year. The White Sox lineup was at its best was when one of them was catching and the other was the designated hitter. Grandal was even able to play some first base throughout the year to give Jose Abreu some rest but they were both great when in the lineup.
Grandal is the number one guy. He has proven time and time again that he can be one of the best all-around catchers in the world at any given time. McCann was there and he can say the same a lot of the time but Grandal has don't it a little better and certainly longer. With that said, they are both very deserving of this award as they are both capable of being elite catchers at the MLB level.
McCann's biggest assignment throughout the season was being the personal catcher of Lucas Giolito. Giolito was good with Grandal too but he was fantastic with McCann. They just seem to have a chemistry that no other pitcher and catcher in the league have. They even had a no-hitter together and it was one of the most dominant no-hitters in the history of the sport.
The White Sox had two outstanding defensive catchers in 2020 which really went a long way in getting them through this 60 game sprint to the finish. It would be even cooler to see them have a 162 game marathon together where they can both be used in different situations. We can only hope that one of them is able to take home the award and that the White Sox are able to bring them back as a duo in 2021.