Chicago White Sox: Len Kasper becomes new radio announcer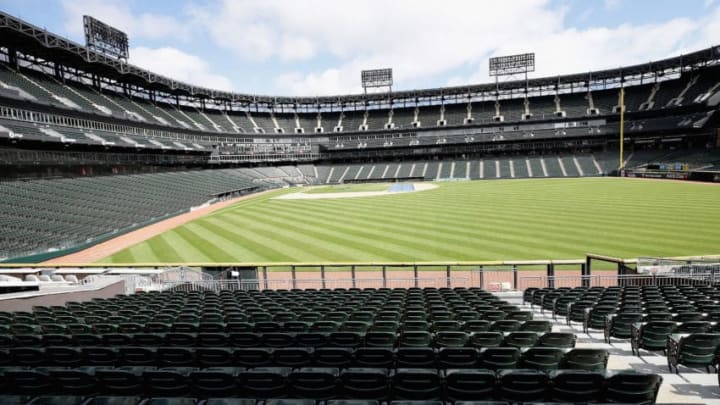 (Photo by Jonathan Daniel/Getty Images) /
Len Kasper is joining the Chicago White Sox radio booth after leaving the Chicago Cubs.
The Chicago White Sox are already headed in a much better direction than the Chicago Cubs. Now, they are even doing better in the broadcasting game as they took a very good announcer from the Cubs. Len Kasper is joining the Chicago White Sox radio booth to be the play by play announcer on the radio. He permanently replaces the late Ed Farmer who passed away earlier in 2020.
Andy Masur replaced Farmer tentatively for the 2020 season but now Kasper will join Darrin Jackson who is the color commentator on the radio. This is going to form one of the better radio crews in all of Major League Baseball.
Not only do the White Sox have an amazing tandem in the radio booth, but they also have a fantastic tandem on the TV side of things with Jason Benetti and Steve Stone. Whether you are catching the White Sox on the radio or television, you are getting A+ coverage and commentary. This is a really exciting move for the White Sox as they look to expand their brand in the city of Chicago.
It is all coming together at the perfect time. It is all for not if the team is bad but they are no longer bad. They are done with their rebuild that was painful but successful. They took a major step forward in 2020 and look to be even better in 2021. If all goes right this offseason, they will be a legit World Series contender. It is perfect to have a guy like Len come in and take care of the radio broadcasts. His style of calling big games is exciting and should mesh well with this young vibrant team.
Kasper wasn't as thrilled calling that home run against the Cubs back in 2019 but he certainly will be excited to call Eloy Jimenez home runs in 2021. It is so exciting to have something like this happen to the White Sox. Hopefully, he has plenty of great moments to call for this team going forward.