FanSided 250: White Sox fans lead the way in Chicago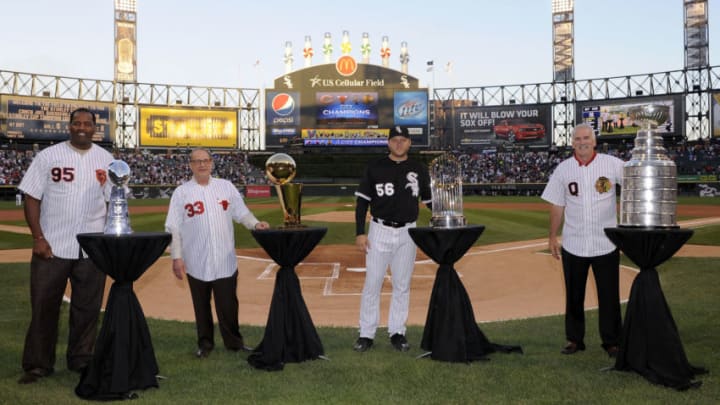 CHICAGO - AUGUST 27: (L-R) NFL Hall of Fame player Richard Dent #95, Chicago Bulls Chairman Jerry Reinsdorf, Chicago White Sox pitcher Mark Buehrle #56 and Chicago Blackhawks head coach Joel Quennvile pose with their respective championship trophies prior to the game between the Chicago White Sox and New York Yankees on August 27, 2010 at U.S. Cellular Field in Chicago, Illinois. Chicago is the only city to win all four major titles in the last 25 years. The White Sox defeated the Yankees 9-4. (Photo by Ron Vesely/MLB Photos via Getty Images) /
Chicago White Sox fans are leading the way in Chicago sports for 2020.
The Chicago White Sox were given a very generous ranking by the FanSided 250 fanbase ranking. They were spot on in acknowledging that the Sox have a fantastic fanbase that supports its team through thick and thin. If you asked a random person in Chicago to rank the fanbases of the five major men's pro leagues and they would rank the White Sox last. Well, this list shows exactly why that claim is so wrong. On this list, the White Sox might have a ranking relative to the rest of the Chicago teams that surprises you.
The Sox are ranked 63rd which is good for seventh in Major League Baseball. That is the best ranking for any of the five Chicago teams in the big four leagues. The Cubs are in second at rank 82 which is ninth in the MLB. The Bulls are third in Chicago as the 176th best fanbase which is 22nd in pro basketball (The Chicago Sky of the WNBA was not ranked). In fourth is the Chicago Blackhawks who sit at rank 207 which is ninth in the National Hockey League.
All of those teams have incredible fanbases but the rank of the Chicago Bears might be the most surprising. Chicago is a Bears town first and foremost but they weren't ranked in this year's edition. They aren't very good and the fanbase is wildly upset because of it so that might have something to do with it. It isn't a good look for the Bears but maybe it will lead to change.
As for the White Sox, leading the way in Chicago is awesome to see. This fanbase has been waiting for this honor for a long time. They have the best team on the field of play lately and it could stay that way for a long time.
Every other team looks like it has a long way to go before they are back in contention so hopefully, the White Sox can take advantage of that in terms of marketing. The window is wide open for them to become even more popular and they have the squad that is capable of doing it!