Chicago White Sox: Yoan Moncada's rebound is most important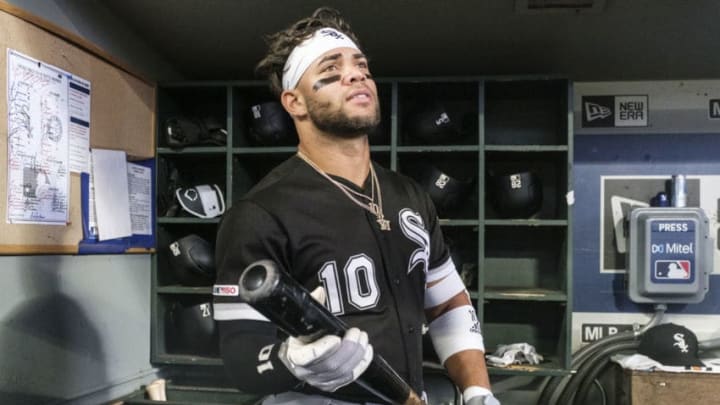 (Photo by Stephen Brashear/Getty Images) /
Yoan Moncada is one of the most important players in the Chicago White Sox organization. It was that way from day one when he was acquired in a trade for Chris Sale. It was the trade that kicked off what would be known as "the rebuild" that the White Sox are currently coming out of. Well, after a COVID-19 diagnosis in 2020, Moncada did not hit well. He was one of the best defensive third basemen in the league but his offense left a lot to be desired.
Yoan Moncada's offensive rebound is the most important thing for the Chicago White Sox.
In 2020, he only slashed .225/.320/.385 with an OPS of .705. He had six home runs and had 24 RBIs with 28 runs scored. Most of those numbers aren't great for a stud like Moncada but he still had a positive WAR (0.7). That goes to show how much of a stud he was defensively at third base. He was nominated for the American League third base Gold Glove as a result.
Moncada did come out and claim that he felt weak and fatigued more than normal as a result of COVID-19. If that is true, it would explain a lot about his lack of offensive production. The White Sox need to make sure that he is healthy and ready to go by Spring Training.
The fact that the White Sox were one of the best teams in the league in 2020 with almost nothing from Moncada offensively says a lot about what they could be if they get him going. He was one of the best hitters in the sport during the 2019 season so if they can add that guy in 2021, this team is even better than we thought.
Having an elite defensive third baseman that can hit with the best of them is very important. If Moncada reaches that offensive ceiling once again, they will have that elite two-way guy in him. He was the number one prospect in baseball for a reason a few years ago so it would be nice to see him reach that potential once again and sustain his success. If he does, seeing him on a World Series-winning White Sox team would be rewarding because he was the guy who came in to start it all.