White Sox: The Mount Rushmore of Sox left fielders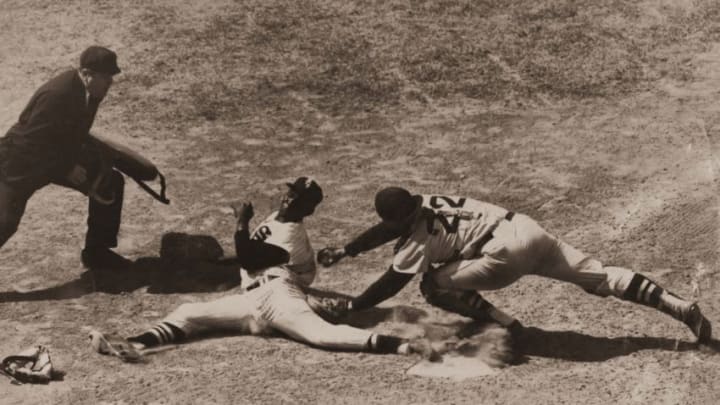 Minnie Minoso (L) of the Chicago White Sox slides around Boston catcher Sammy White in a 1953 game. (Photo by Mark Rucker/Transcendental Graphics, Getty Images) /
Mount Rushmore of White Sox left fielders: Minnie Minoso
It took Minnie Minoso longer to reach the major leagues than it probably should have, but baseball's tacit ban on Black players extended to dark-skinned Latin Americans such as the Cuban native Minoso as well.
He played three seasons with the Negro National League's New York Cubans, hitting .314 with an .850 OPS in 120 games. He signed with the Cleveland Indians late in the 1948 season and racked up nine extra-base hits in 11 games for the Dayton Indians in the Class-A Central League, going 21-for-40.
Minoso made the Indians roster out of spring training in 1949 but was demoted after playing only nine games, spending the rest of the campaign with the Triple-A San Diego Padres, where he played the entire 1950 season as well.
At the end of April 1951, Minoso got his break, going to the White Sox as part of a three-team trade that also included the Indians and Philadelphia Athletics. He wound up an All-Star in his official rookie season, finishing second in the Rookie of the Year voting and fourth in the MVP race while leading the league with 14 triples and 31 stolen bases.
Minoso was an All-Star four straight years between 1951-54, leading the AL in steals in both 1952 and 1953 and in triples (18) and total bases (304)  in 1954. He was also fourth in the MVP  voting in 1953 and again in 1954.
He returned to All-Star status in 1957, when he led the league with 36 doubles, but in December of that year was traded back to Cleveland in the deal that brought Early Wynn to Chicago.
In December 1959, Minoso was reacquired by the White Sox from the Indians in a seven-player trade and made his sixth and seventh All-Star appearances representing Chicago in 1960 (there were two All-Star games that season) and was, once again, fourth in the MVP race, leading the league with 184 hits.
His average dipped to .280 in 1961 and in November he was traded to the St. Louis Cardinals. Minoso returned to the White Sox for a third stint in April 1964, but was released in July of that year.
Minoso continued playing regularly in Mexico for another nine seasons before retiring at age 48 after hitting .265 with 12 homers and 83 RBI in 120 games for Union Laguna in 1973.
He returned to the White Sox as a coach in 1976 and was on the staff for three seasons. In 1976, he was activated for three late season games and got a hit at age 50 and made two more plate appearances in 1980, becoming just the second major leaguer to play in five decades.
In 10 seasons (plus his 1976 and 1980 cameos), Minoso hit .304 with an .865 OPS in 1,373 games and 5,917 plate appearances for the White Sox, with 135 homers, 808 RBI and 893 runs scored. He also stole 171 bases and won two Gold Glove awards.
Minoso died in Chicago on March 1, 2015, and has yet to be enshrined in the Baseball Hall of Fame.