White Sox: The Mount Rushmore of Sox left fielders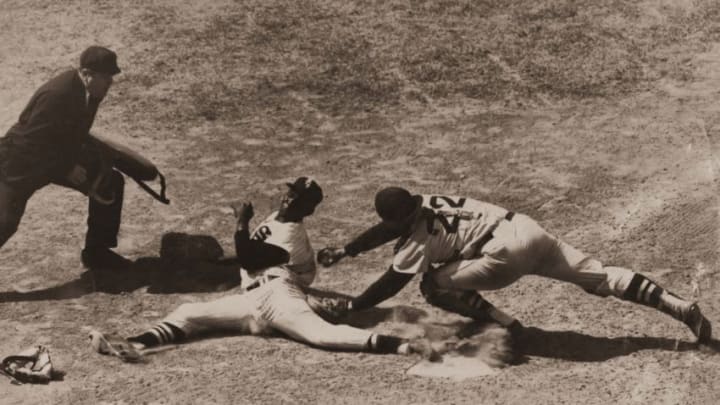 Minnie Minoso (L) of the Chicago White Sox slides around Boston catcher Sammy White in a 1953 game. (Photo by Mark Rucker/Transcendental Graphics, Getty Images) /
Mount Rushmore of White Sox left fielders: Tim Raines
Tim Raines may have played his best baseball during his first 12 seasons with the Montreal Expos, but after being traded to the Chicago White Sox in December 1990, Rock showed he had plenty left.
One of baseball's all-time great base stealers, Raines stole 51 bases in 1991 for the White Sox and added 45 in 1992 before he began to slow a bit. In 1993, Raines missed most of April and May after tearing ligaments in his thumb, but returned to hit 16 home runs in 115 games and 486 plate appearances, hitting .306 with an .880 OPS.
In the ALCS against the Toronto Blue Jays, Raines was a force, going 12-for-27 (.444) with three doubles in the six-game series loss. He remained with the club through the 1995 season. Raines was traded in December 1995 to the New York Yankees.
In five seasons with the White Sox, Raines hit .283 with a .781 OPS in 648 games and 2,873 plate appearances. He hit 50 homers, scored 440 runs, drove in 277 and stole 143 bases in 173 attempts.
Raines retired after the 1999 season with the Oakland Athletics, but returned in 2001 for the Expos. He also played with the Baltimore Orioles in 2001 and finished his career as a reserve for the Florida Marlins in 2002.
He was inducted into the Baseball Hall of Fame in 2017 in his 10th year of eligibility on the Baseball Writers Association of America ballot.