White Sox: The Mount Rushmore of Sox left fielders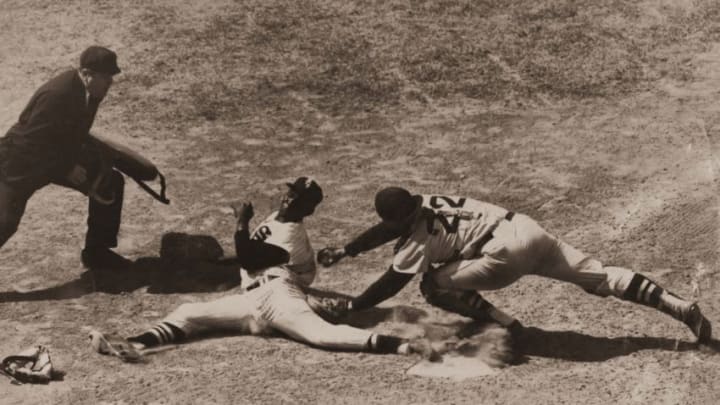 Minnie Minoso (L) of the Chicago White Sox slides around Boston catcher Sammy White in a 1953 game. (Photo by Mark Rucker/Transcendental Graphics, Getty Images) /
Al Simmons (R) of the Chicago White Sox touches home plate after hitting a home run. (Photo by Mark Rucker/Transcendental Graphics, Getty Images) /
Mount Rushmore of White Sox left fielders: Al Simmons
Al Simmons was an established star when he got to the Chicago White Sox, a two-time batting champion with an RBI crown on his resume and two World Series rings over nine seasons with the Philadelphia Athletics. The White Sox acquired Simmons along with Jimmy Dykes and Mule Haas in September 1932, paying the Athletics $100,000 for the trio.
Simmons' home run totals fell, moving from homer-friendly Shibe Park in Philadelphia to cavernous Comiskey Park in Chicago, but that didn't stop him from producing.
He was an All-Star all three seasons he played with the White Sox (the first three All-Star games in history), hitting .331 with an .854 OPS in 1933 and posting marks of .344 and .933, respectively, in 1934. He topped 100 RBI each season, as well, but his production slipped in 1935.
In December 1935, the Detroit Tigers purchased Simmons' contract from the Sox for $75,000.
In three seasons with Chicago, Simmons hit .315 with an .845 OPS in 412 games and 1,823 plate appearances. He had 87 doubles, 24 triples, 48 homers and 302 RBI in that span.
He later played for the Washington Senators, Brooklyn Dodgers, Cincinnati Reds and Boston Red Sox and also played three years with the Athletics, finally retiring after he was released by the A's in June 1945 having not appeared in a game that season.
Simmons was inducted into the Baseball Hall of Fame in 1953, but died three years later in May 1956. He was only 54 years old.