White Sox: The Mount Rushmore of starting pitchers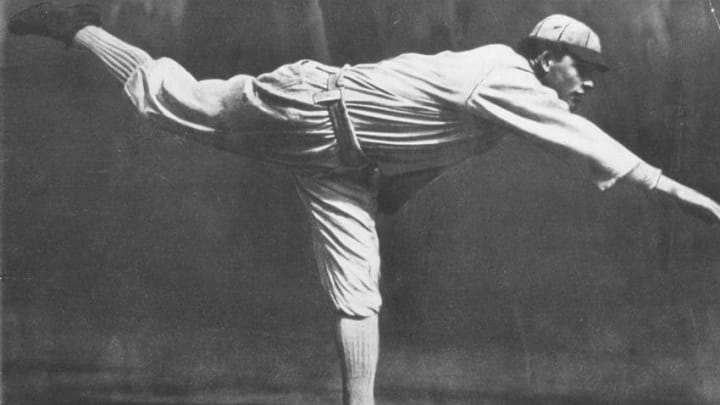 Chicago White Sox pitcher Ed Walsh in 1909. (Photo by Mark Rucker/Transcendental Graphics, Getty Images) /
Mount Rushmore of White Sox starting pitchers: Eddie Cicotte
Eddie Cicotte becomes the second of the eight Chicago White Sox banned in 1921 for their roles in throwing the 1919 World Series, but Cicotte gets the nod because of his work pitching the club to a championship in 1917 and for his overall standout performance over his eight-plus seasons in Chicago.
Cicotte was acquired from the Boston Red Sox in July 1912 in a straight cash deal and for years, he was money for the White Sox. Cicotte led the American League with a 1.53 ERA and 0.912 WHIP in 1917 and twice led the league in wins, innings pitched and fewest walks per nine innings.
While pitching in an era during which the home run was not in vogue, Cicotte worked 269.1 innings in 1914 without surrendering even one. It wasn't unique, but it was uncommon just the same.
Cicotte started twice and relieved once in the six-game victory over the New York Giants in the 1917 World Series, posting a 1.57 ERA and 1.087 WHIP in 23 innings. Even in the tainted 1919 series against the Cincinnati Reds, Cicotte won one of his three starts and had an ERA of 2.91 in 21.2 innings.
Like the other suspected fixers, Cicotte was pulled from competition in late September 1920 and never pitched in the majors again. In parts of nine seasons, Cicotte had a 2.25 ERA and 1.112 WHIP in 2,322.1 innings over 353 games, 258 of them starts, with 183 complete games and 28 shutouts.
He struck out only 3.7 batters per nine innings, indicative of the era, but walked just 2.1 per nine in that time.
Cicotte earned a tryout with the Detroit Tigers in the spring of 1905, signing the 21-year-old and optioning him to Augusta in the Class-C South Atlantic League. Playing both semipro and low-minors ball in Michigan's Upper Peninsula.
The Red Sox purchased Cicotte's contract from Detroit at the end of the 1907 season and he became a regular in their rotation the following season.
Cicotte died in Detroit in May 1969 at the age of 84.