White Sox: The Mount Rushmore of starting pitchers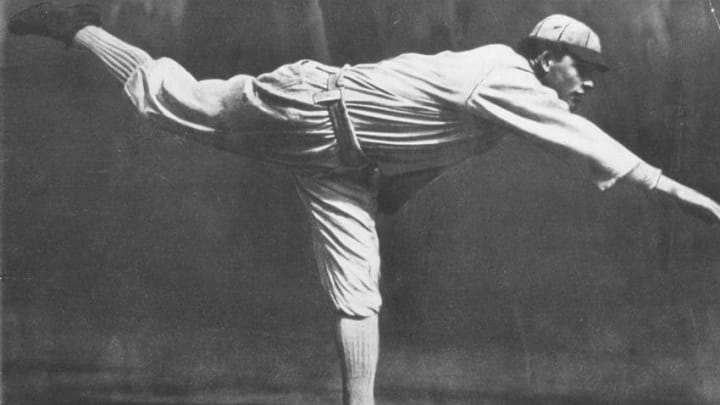 Chicago White Sox pitcher Ed Walsh in 1909. (Photo by Mark Rucker/Transcendental Graphics, Getty Images) /
Chicago White Sox pitcher Ed Walsh in 1909. (Photo by Mark Rucker/Transcendental Graphics, Getty Images) /
Mount Rushmore of White Sox starting pitchers: Ed Walsh
Even in an era when pitchers threw 16 innings, dipped their arm in lukewarm water and did the same thing a few days later, Ed Walsh of the Chicago White Sox was an anomaly for his durability.
The White Sox purchased Walsh's contract from Class-A Newark of the Eastern League after the 1903 season and he worked as a spot starter for Chicago the next two seasons.
He took a more regular return in the rotation in 1906, leading the majors with 10 shutouts, but what he did over the next six years would defy physiology, logic and perhaps the laws of physics.
From 1907-12, Walsh appeared in 316 games, started 237, completed 197 and threw 2,248 innings. He led the league in innings pitched four times and in 1908 pitched a ridiculous amount — 66 games, 49 starts and 464 innings.
He is one of two players in the modern era to win 40 games in a season, going 40-15 in 1908. Jack Chesbro of the New York Highlanders in 1904 was the other.
He wasn't used as much in 1909, simply because he was still recovering from the previous season.
Walsh's effectiveness waned after the 1912 season. He was still solid, but needed lengthy rest periods between starts, and was released by the White Sox after the 1916 season, during which he appeared just twice, working 3.1 innings.
He got a brief stint with the Boston Braves in 1917, and made cameos in the minor leagues with Milwaukee in 1919 and Bridgeport, where he managed, in 1920.
Walsh coached for the White Sox for several years and also was a pitching coach at Notre Dame University, where his son pitched.
In 13 years with the White Sox, Walsh had a 1.81 ERA in 2,946.1 innings, striking out 5.3 per nine innings while walking 1.9. He led the AL in strikeouts twice (1908 and 1911) and in WHIP twice (1909-10).
His 1.82 career ERA is the best in major-league history and is likely a record never to be broken.
Walsh was inducted to the Baseball Hall of Fame in 1946 after being selected by the Old Timers Committee, but struggled financially after the Great Depression. He died at age 78 in May 1959 after a lengthy bout with cancer.