Chicago White Sox: Time to figure out the 8th inning issues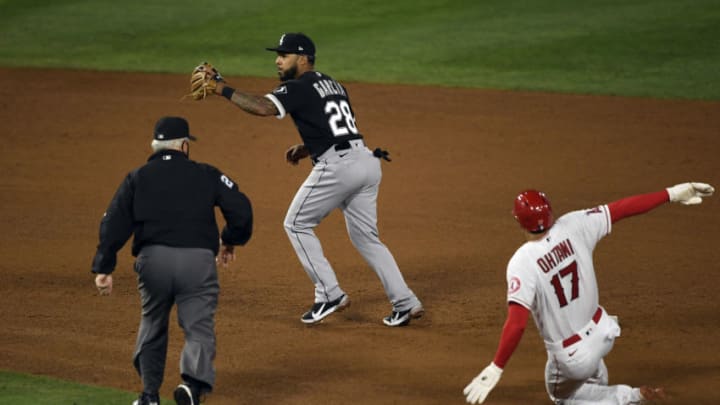 ANAHEIM, CA - APRIL 03: Leury Garcia #28 of the Chicago White Sox catches a wide throw as Shohei Ohtani #17 of the Los Angeles Angels steals second base during the fifth inning at Angel Stadium of Anaheim on April 3, 2021 in Anaheim, California. (Photo by Kevork Djansezian/Getty Images) /
Things were looking good for the Chicago White Sox when they entered the 8th inning of Saturday nights game. They were winning 3-2 with Mike Trout coming to the plate. Things got even better when Evan Marshall sat Trout down with some sweet pitching. With one out, the Los Angeles Angels put together a solid inning and scored three runs after that. Going into the 9th with a 5-3 lead, they were able to hang on and win the ball game. It was a tough way to end what was a sure  White Sox victory.
The Chicago White Sox needs to be better in the 8th inning of baseball games.
Now, the White Sox are 1-2 with both losses coming in the 8th inning. They blew leads in two of their three 8ths and that is a big problem. Bad defense is a big key to them losing both games which are also something they need to correct. Not catching the balls and reading it in the outfield badly is something that has come back to cost them in both losses.
It is hard to blame Aaron Bummer for the 8th inning of the first loss but Evan Marshall can take some blame for how last night's loss went. It is certainly something that is correctable which is a good thing to take away from these games. The fact that they could very well be 3-0 right now should make everyone feel a little bit more at ease. They will get out of this.
Leading up to the 8th inning, the starters and first relievers have been pretty good. They just need to be better at closing out a game so that they can get a win. Once the offense gets going a little bit more, they will be the team we all expected but they still need to catch the baseball on defense.
The White Sox will have another chance at the Angels on Sunday night. The Easter matchup will see the White Sox face Shohei Ohtani. Dylan Cease will be on the bump for the road team as they try to split it. It hasn't been the dream start of the season but if they clean up their defense and 8th innings, they'll be much better and win lots of games.