Chicago White Sox: Luis Robert's growth as a hitter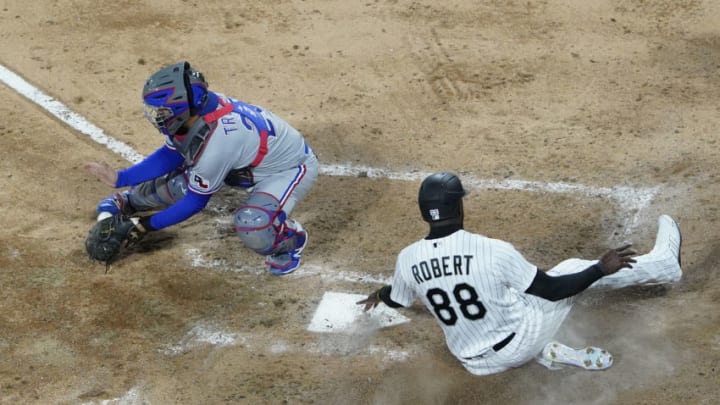 (Photo by David Banks/Getty Images) /
Chicago White Sox outfielder Luis Robert is starting to grow into the player he always has been said to be. He is as good as any young baseball player at both offense and defense. The White Sox have a legit chance to win a World Series with this guy leading the way.
Luis Robert's growth as a hitter has been great for the Chicago White Sox.
This season, Robert is producing a slash line of .305/.356/.463 with eight doubles, one home run, and has driven in six runs. The most significant progress that Robert has made has been the reduction in his swing and misses. Robert appears more confident at the plate and is not nearly swinging at as many pitches out of the zone. According to MLB.com, Robert has increased his in-zone contact rate from 68.3% to 82.8%, which is the largest increase in the MLB.
Over his last six games, Robert has three multi-hit games, a hit in five of the last six games, and has reached base safely in all six. Although he has not flexed his power so far with just one home run, the way Robert is barreling up baseballs means it is only a matter of time before the ball starts leaving the park for him.
The real question that lies with Robert now is where he fits best in the lineup. Through 21 games, he has hit in the second, third, fifth, sixth, and seventh spots in the order. The best results have been when Robert is slotted in at either the fifth or seventh spot in the lineup. When he hits in the five-hole, he produces a slash line of .375/.444/.375. When hitting seventh in the order, he produces a slash line of .423/.444/.577.
Already a gold-glove defender in center field, we are beginning to see why he's heralded as a six-tool player. Robert's growth is pivotal to this White Sox team and the development in his game this early on is impressive to see.