MLB Power Rankings: Chicago White Sox rank fourth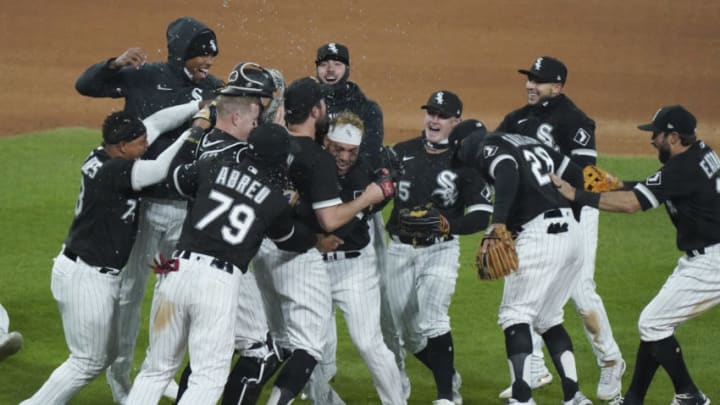 CHICAGO, ILLINOIS - APRIL 14: Carlos Rodon #55 of the Chicago White Sox celebrates his no-hitter with teammates after a game against the Cleveland Indians at Guaranteed Rate Field on April 14, 2021 in Chicago, Illinois. The White Sox defeated the Chicago White Sox 8-0. (Photo by Nuccio DiNuzzo/Getty Images) /
It certainly has been an exciting baseball season thus far. Though not everyone is happy with the many rule changes made by commissioner Rob Manfred, many surprise teams have broken out and exciting individual performances make baseball still worth watching. Here is a current rundown of the power rankings of the Chicago White Sox and the rest of Major League Baseball.
Los Angeles Dodgers – It's not hard to see that the LA Dodgers are the best team in baseball. With an absolute stacked lineup and rotation, there isn't anyone better. They may also avoid championship hangovers thanks to last year's shortened season which makes them a real threat to be the first team to repeat as champions in 21 years.
San Diego Padres – As they've shown with their 4-3 record against LA, the Padres are one of the few teams that can go toe-to-toe with the Dodgers, making them the number 2 team in baseball. Fernando Tatis Jr. remains incredible, hitting 46 home runs and stealing 31 bases in his first 158 MLB games, all while playing shortstop.
Boston Red Sox – Since 2004, the Red Sox have won the World Series every 3-6 years. Having last won the Series in 2018, it seems to be getting around that time again. Their 14-9 record speaks for itself and ace Chris Sale may be returning to the team soon.
Chicago White Sox – At this point, the White Sox have to be the favorite to win the AL Central and are just a tick below the Boston Red Sox for the best team in the AL (at least based on the series the two played against each other). The White Sox also has the best run differential in the AL (+21) through Sunday.
Oakland Athletics – After a shaky start, the Oakland baseball team won 13 straight games, making them a potential favorite in the American League West. However, given their postseason history, I don't really consider them a favorite for the American League. Both Sox teams would probably beat them in the playoffs.
Milwaukee Brewers – The Brewers in first place? Who could have predicted that? Oh wait, I did. They won a series against the Chicago Cubs at Wrigley playing without Christian Yelich who will be back soon.
Atlanta Braves – Despite a 9-12 start, this is the most talented team in the NL East. They have won 3 straight division titles. Ronald Acuna Jr. might be the best player in baseball. However, if they don't start to turn things around soon, they might fall in the power rankings.
San Francisco Giants – Their 14-8 start is a lot easier to buy than some other surprise teams. That said, they've had a pretty easy schedule so far, so we'll see how well this is holding up in 2 months.
Tampa Bay Rays – Though they are not as good as they were last year, the defending AL Champs deserve to stay in the top 10 until they play themselves out of it. Also, the continuation of their dominance against the New York Yankees (a pre-season favorite) helps with their staying power.
Los Angeles Angels – So far, this Angels season has shown that the Angels are a pretty decent team with Mike Trout and a pretty bad one without him. Fortunately, he is returning to the lineup on Monday. Anthony Rendon may be back soon as well which is a good thing because man do they need those guys. Albert Pujols hopefully will still get enough playing time to continue his chase of 700 homers (he's currently at 666).
Seattle Mariners – Are the Mariners for real? Their players seem to think so. The upcoming series against the Astros and Angels may give us a real idea of where they stand in the AL West.
Kansas City Royals – Though MLB.com ranks the Royals at #7 in their power rankings, I'm not ready to buy into the Royals quite yet but their weak upcoming schedule means they could hang around first place for a while longer. Ultimately, I do think that the White Sox are the better team, but I do think it would be fun for the Sox and Royals to form a legitimate rivalry. The White Sox and Royals haven't had a winning season in the same year since 2003. In fact, they've only both had winning records a handful of times in the same season since the Royals came into existence in 1969. For them to both be good at the same time would provide something new and original to the baseball standings for once.
 New York Mets – So far the Mets haven't really played that well as they were swept by the Cubs and having a negative run differential. Despite this, they are still somehow in first place. Even though they are an overrated and overhyped baseball team, the Mets could manage to win the weak NL East as it will pretty much be them or the Braves winning the division.
St. Louis Cardinals – Also overhyped, the Cardinals have managed to hold their own so far. They are in second place and holding a winning record. They could make the playoffs, but the Brewers are better.
 Toronto Blue Jays – The Blue Jays have been up and down so far, but things will get better once George Springer returns.
Houston Astros – It's hard to say how good this team is. They still have some talent but they can't cheat anymore. They finished 29-31 last year but still somehow made the ALCS. They are 10-11 this year but have a good run differential (+18).
Philadelphia Phillies – Another team stuck in mediocrity, the Phillies have the most wins in their division but still have a losing record. They have impressive stars like Bryce Harper and J.T. Realmuto but also lots of weak spots in their lineup. It's hard to know exactly what the problem is with the Phillies.
New York Yankees – Despite an awful start, the Yanks are still only 4 games out of first place so there's plenty of time to turn things around. The Yankees having a losing season for the first time in my life would provide some originality to the baseball standings which are desperately needed. That 82nd loss would feel so sweet.
Minnesota Twins – This team is off to a 7-13 start for the first time since 2006. What happened in 2006? The team finished 96-66 and came in first place taking the division lead away from the Tigers and pushing the White Sox out of the playoffs entirely only to get swept in the first round (as always). You can't completely count out the Twins yet but whatever happens, they'll always be worse than the Yankees.
Arizona Diamondbacks – Madison Baumgardner's 7-inning complete game shut out with no hits should definitely count as a no-hitter, at least until MLB decides to scrap the 7-inning double-headers.
Chicago Cubs – The Cubs actually looked to be turning it around for a little bit with a nice 4-game win streak in the middle there. However, the 10-11 record is pretty unimpressive for a team where all the good players are healthy. I don't see how they can finish better than third place.
Cincinnati Reds – They have scored the most runs in the NL so they can definitely hit, but they can't pitch. Fortunately, the 7 game losing streak has to end soon right? Next up, they face the Dodgers on the road.
Cleveland Indians – The Indians have the opposite problem as the Reds as they can pitch but can't hit. Maybe they should merge the two teams because then they would be awesome. The Indians are getting rid of their name anyways so it might not be that bad on an idea to make the Ohio Reds.
Miami Marlins – The Marlins are a losing team but at least their attendance hasn't changed much in the covid-era.
Washington Nationals – It is really nice that they squeaked out that 2019 championship before things started to get worse. Good for them.
Baltimore Orioles – The Red Sox awful season last year meant the Orioles avoided the last place for the last time in a while. Alas, the Red Sox are good again so they are once again in the last place.
Colorado Rockies – The Rockies have a terrible record but a positive run differential. This could be a product of how hard their division is.
Pittsburgh Pirates – I have no idea how these guys are .500 (11-11).
Texas Rangers – As we saw in the weekend series against the White Sox, these guys are really bad and will finish in last place almost certainly.
Detroit Tigers – Miguel Cabrera seemed a lock for 500 home runs and 3,000 hits going into this season but he's going to have to do a lot better than his current .107 batting average. Can the Tigers at least get him some lineup protection? They should consider signing Yasiel Puig or Yoenis Cespedes.