Chicago White Sox: Michael Kopech makes switch back to bullpen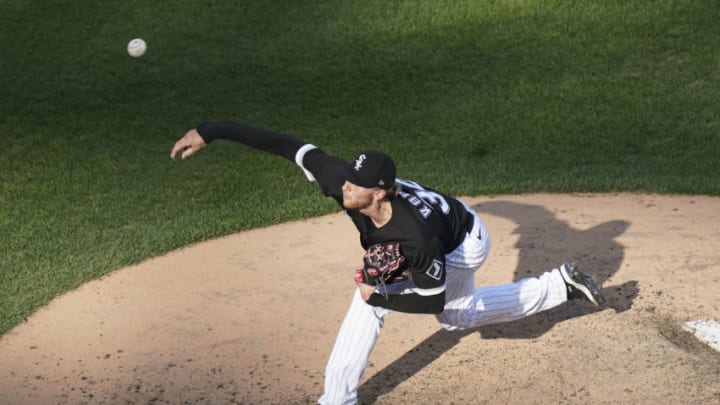 (Photo by Nuccio DiNuzzo/Getty Images) /
It's getting hard to temper expectations for Michael Kopech. He is brilliant in every way. There is a possibility that he becomes one of the best starting pitchers in the league and in the history of the Chicago White Sox. He has an incredible set of pitches that he uses to his advantage every time he is out there. Before Saturday, he made two straight starts. The first one was the second half of a doubleheader and the second was in Lance Lynn's place due to Lynn's injury.
Now, he appears to be back in the bullpen now that the White Sox have all five of their starters healthy. They are also missing Garrett Crochet for another week so Kopech is perfect back in that role. For as many mistakes as the White Sox have made internally over the past few weeks, the way they are handling Kopech has been flawless.
The Chicago White Sox need to do whatever they can to make Michael Kopech happy and healthy.
The White Sox clearly has an innings limit on Kopech because of everything he has been through. This team believes that they will be in the playoffs and having Kopech would be a complete advantage to them. They could decide to have him start games or they can keep him as that superweapon in the bullpen.
The game against Cleveland was the perfect example of how to use him as the previously mentioned superweapon. He gave up one hit and no runs in three innings pitched. He also pumped out three quick strikeouts as well. One thing that was noticeable was his ability to get hitters to pop out as well.
The only hitter that was able to really put together a battle at the plate against him was Jose Ramirez who is an all-world hitter. Kopech won that duel, however, as he put Ramirez away after a long duel. Like any other time Kopech has been on the mound, this was incredibly entertaining to watch as a simple baseball fan. As a White Sox fan, it was better that he won.
Lynn went for five innings. That meant that Kopech going for three got them to Aaron Bummer in a save situation. It was the perfect game for someone that is playing the role of a long reliever. He will continue in the bullpen with the team as currently constructed and then become a starter before you know it. Everyone should be truly excited about this guy.