Chicago White Sox: Amazing win sweeps Minnesota Twins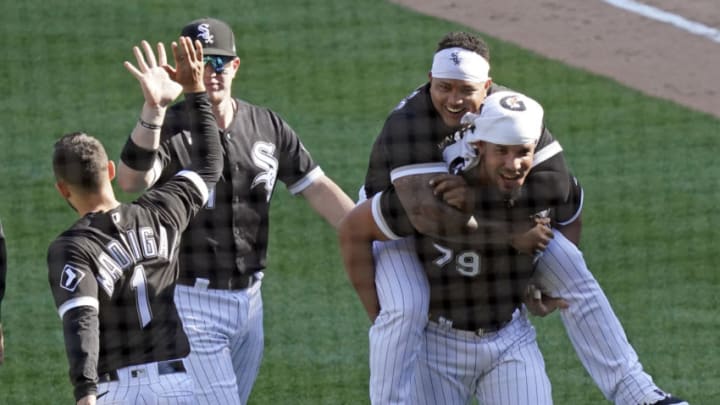 CHICAGO, ILLINOIS - MAY 13: The Chicago White Sox celebrate their win over the Minnesota Twins at Guaranteed Rate Field on May 13, 2021 in Chicago, Illinois. The White Sox defeated the Twins 4-2. (Photo by Nuccio DiNuzzo/Getty Images) /
The Chicago White Sox took their first place selves into a big Thursday afternoon battle with the Minnesota Twins and showed up. They got off to as good of a start as you can as Tim Anderson hit the first pitch a White Sox hitter faced and drove it out of the ballpark. Leading 1-0 after a single pitch is as good of a feeling as you can get in baseball. They never looked back from there. However, this win wasn't as smooth as some of their other recent wins.
The Chicago White Sox are sitting pretty after sweeping the Minnesota Twins.
This game was a tight 4-2 victory instead of winning the game by four runs or more. The offense was a little bit quieter than it usually is. It was the first time in five games that they didn't score nine runs which is an unrealistic expectation. Showing that they can win a close battle like that is incredibly important.
Lance Lynn was on the mound and he was good. It certainly wasn't his best start of the season but he was good enough to give the White Sox a chance to win. He went 5.0 innings, allowed two hits, one run, and had nine strikeouts. There were a few jams he had to get out of because of his three walks but he always did. He has been a beast so far this season and this game kept it going.
Liam Hendriks deserves some shine as well. After an emotional ending to Wednesday night's victory, he came out for the second game in a row. This time it was a save situation and he had to get five outs instead of three. He also had to deal with a mess on the base pads which didn't make it easy. He didn't give up a single hit and had two strikeouts to earn the save. He has been great lately and needs to see it continue.
Billy Hamilton was a key factor in this sweep as a whole. His bat, speed on the bases, and glove were brilliant at all times. The White Sox needs him to continue doing stuff like this if he is going to be a part of the team.
Sweeping the Minnesota Twins out of town is a statement made by the Chicago White Sox. The Twins have had the White Sox number for years but this year is different. Now, after two sweeps, the White Sox leads Major League Baseball with a 22-13 record. They have the Kansas City Royals coming to town now who have lost 11 straight games. This statement sweep is huge for them and they need to keep it going!