Chicago White Sox: Jose Abreu doesn't look right at the plate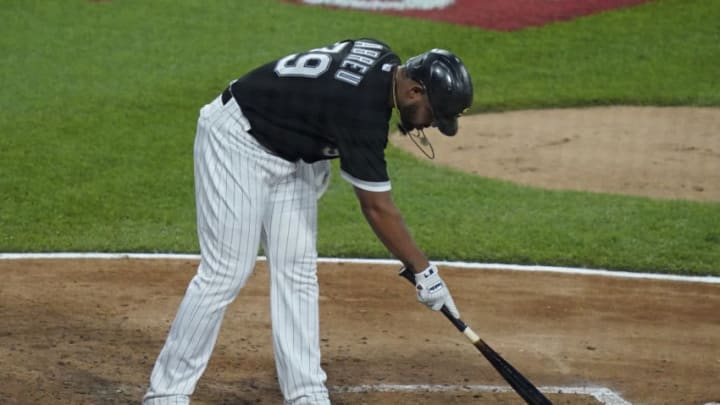 CHICAGO, ILLINOIS - JUNE 08: Jose Abreu #79 of the Chicago White Sox bats against the Toronto Blue Jays at Guaranteed Rate Field on June 08, 2021 in Chicago, Illinois. (Photo by Nuccio DiNuzzo/Getty Images) /
With the Chicago White Sox trailing by a run in the fourth inning on Friday night, Jose Abreu came lumbering up to the plate. With a runner on first base and a chance to tie the game, this is usually the perfect spot for the 2020 MVP. Abreu led the league in RBIs last season and has been the model of consistency throughout his tenure with the White Sox. However, instead of delivering, Abreu grounded into a double play.
Something just seems off for Jose Abreu of the Chicago White Sox right now.
In the sixth inning, Abreu got another opportunity to drive in runs. With runners on first and second, he had a chance to cut into the White Sox 5-1 deficit. Abreu quickly fell behind in the count 0-2 and popped out to end the inning. It was part of a frustrating 0-for-3 night for the big Cuban first baseman. It has also been a microcosm of the brutal month he is having at the dish.
For whatever reason, Jose Abreu does not look like himself in the batter's box. He no longer carries the same MVP caliber presence he did in 2020 when he took home the award. Recently, he hardly even presents a threat. In Abreu's last 15 games he is hitting just .197 with 15 strikeouts. In his last seven games, he owns a.120 slugging percentage. He is almost unrecognizable up there.
In the month of June, Abreu has only one home run, five doubles, and seven RBIs. Despite the struggles, he still leads the team in RBIs and is tied for first with 12 home runs. While his offensive numbers have been down, he is still finding ways to contribute with his stellar defense at first base. It has been sad to watch the decline of Abreu offensively this season but his manager thinks that his struggles may be due to injury.
""There's 'hurt' and 'sore', you know? It sure seems to me he's dealing with some pain issues that he wants to play through," La Russa told the media after Friday's 9-3 loss to the Mariners. "We're going to talk to him about it. There's still three-plus months to go.""
This is just speculation and Abreu would never use soreness as an excuse. He wants to be in the lineup every day. Earlier this season, he got in a nasty collision in the first game of a doubleheader and had to be helped off the field. Hours later he was pleading with Tony La Russa to let him play the second game before returning the next day sporting a bandage on his face. His toughness and reliability are what teammates and fans alike love about him.
If he is in fact sore it may be wise to give Abreu a couple of day's rest. Jesus Montero did not help things after he plunked Abreu with a pitch in the eighth inning. Abreu hates sitting out and prefers to be at first base in the lineup. With all of the injuries to the White Sox lineup, Abreu may be pressing on offense to compensate for the shorthanded lineup. A couple of days off his feet to identify what is sore or even just reset mentality may be just what he needs.
The White Sox needs to get to the bottom of this and fast. Abreu is the anchor of the lineup and when he struggles the rest of the offense struggles with him. The White Sox are just 3-7 in their last ten games and have only scored more than three runs in a game twice during that stretch.
Abreu is a constant professional and puts in more work than anyone on the White Sox. With time this slump should pass. Everyone is aware of how great Abreu is at his best and he needs to step up. Abreu knows this as well, which is why fans should be confident he will return to form eventually.