Chicago White Sox: A Sunday doubleheader is in order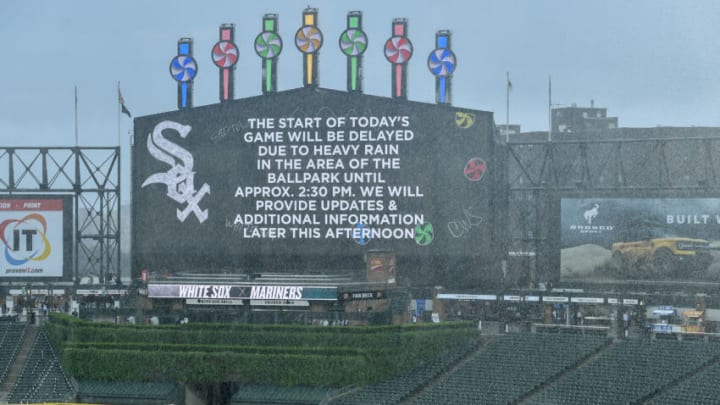 CHICAGO, ILLINOIS - JUNE 26: A general view before the game between the Chicago White Sox and the Seattle Mariners that was delayed due to heavy rain in the area of the ballpark at Guaranteed Rate Field on June 26, 2021 in Chicago, Illinois. (Photo by Quinn Harris/Getty Images) /
The Chicago White Sox are in a bit of a funk so everyone was looking forward to Saturday's game against the Seattle Mariners. It was supposed to be the first Saturday game with fans at 100 percent capacity in almost two years before it was suspended due to the weather. The game started late because of a delay before the second rain delay postponed it for good.
The Chicago White Sox are hoping to get a doubleheader in on Sunday.
Now, the White Sox and Mariners are going to finish that game and then play a seven-inning game right after it on Sunday. The White Sox had just recorded the final out of the top of the third before the rain decided to come flooding in. They will pick it up with the White Sox coming up to bat in the bottom of the third. They will go all nine innings for this one.
We don't know what the pitching is going to look like for this one. Lance Lynn had a no-hitter going into the third but he isn't going to pitch again until his next start. This is going to finish off as a bullpen game for the White Sox as they try to snag a win.
In the second game, the White Sox are going to throw Dallas Keuchel. The Mariners' probable starter is not listed as to be determined so it will be interesting to see what they do. It is extremely important for the White Sox to take care of their business in this double-header because they need to start winning regularly again.
Fans who are going to either game on Sunday are able to be in attendance for both games. We don't know what the weather is going to look like but you would imagine that they do their best to get the games in as the Seattle Mariners aren't scheduled to return to Chicago again this season. All we can do is hope that the rain stays away just enough to do this.
Before the rain came back, the offense wasn't looking good again but Lance Lynn was dialed in. It felt like the type of game where he was going to pitch very well. It would have been nice to see if the offense was able to put some hits together but it was for not. This season is always going to have its ups and downs but they need to make sure there are more ups going forward.