Luis Robert injury history and updates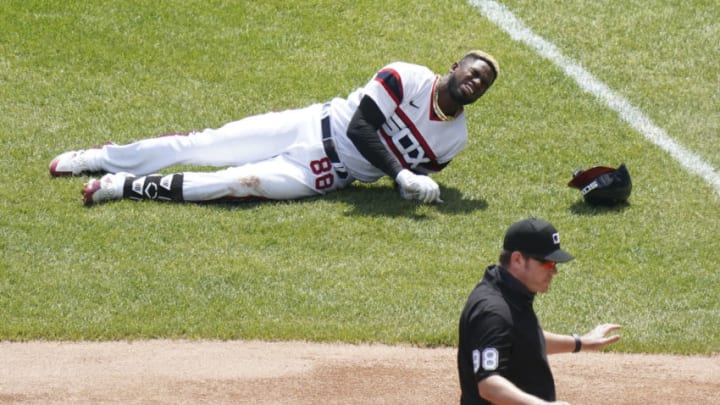 Luis Robert (Photo by Nuccio DiNuzzo/Getty Images) /
The White Sox provided a Luis Robert injury update on Tuesday that should make fans happy.
Robert has been cleared to increase his baseball activities, the team said. He will be at the White Sox facility in Arizona for at least the next four weeks.
Robert tore his right hip flexor on May 2 while running out an infield single against the Cleveland Indians.
Luis Robert injury updates
July 21
Luis Robert has been cleared to begin an injury rehab assignment with High-A Winston-Salem beginning Wednesday.
June 29
Beyond that, there is no exact timetable for Luis Robert's return. That will depend mainly on how the next few weeks go for the centerfielder.
The injury in May initially caused a bit of panic for the seemingly snake-bitten Sox, who have suffered more than their fair share of injuries this season. But the White Sox got some great news on Robert's injury not long after.
Robert avoided surgery, which could have kept him out of the line for 16 weeks. The timetable set by the team was closer to 12 weeks, which would have put him on schedule for an early August return.
Now, it seems plausible, though not certain, he could be back in Chicago even a little bit before that.
Robert was batting .316 with a .359 on-base percentage and a .463 slugging average through 103 plate appearances at the time of the injury.
During his two-year career, he has batted .259 with .320 OBP, hit 12 home runs, and slugged .444. The 23-year-old has 13 stolen bases.
Robert is currently on the 60-day IL, retroactive to May 2.
Luis Robert injury history
Luis Robert does not have a lengthy history of missing time at the major league level. He was listed as day-to-day after injuring his left hand while diving in August 2020 but returned after X-rays came back negative.
He was placed on the IL at the major league level just one other time prior to the hip flexor injury
Beyond that, he did have a little shakier start at the minor league level with a thumb injury.
April 27, 2021 — Luis Robert suffers flulike symptoms
The White Sox put Luis Robert on the injured list on April 27 with flulike symptoms. You can read that as "covid precaution" in all likelihood. He was reinstated two days later.
Per the Chicago Tribune, Robert said through an interpreter:
""I had a headache, fever, body aches. …"(Now) I feel much better. I don't have any headache or fever or anything. The only thing is I think my body is a little lethargic. But I think that's because the last few days have been in bed most of the time. I'm going to be good.""
July 2, 2018 — Luis Robert injures left thumb again
Just 10 days into his promotion to Advanced-A and about a month into his career, Robert again sprained his left thumb, which sent him to the IL, MILB.com's Michael Avallone and Chris Tripodi reported. He returned July 3 only to then miss the rest of the month before finally settling back into the lineup on Aug. 3
The article noted it wasn't the first thumb injury for Robert, then the White Sox No. 3 prospect.
March 2018 — Luis Robert's suffers left thumb sprain
The same injury cost him the first two months of that season following a slide. He made his debut on June 5 of that year.