White Sox: The team has played well despite all of the injuries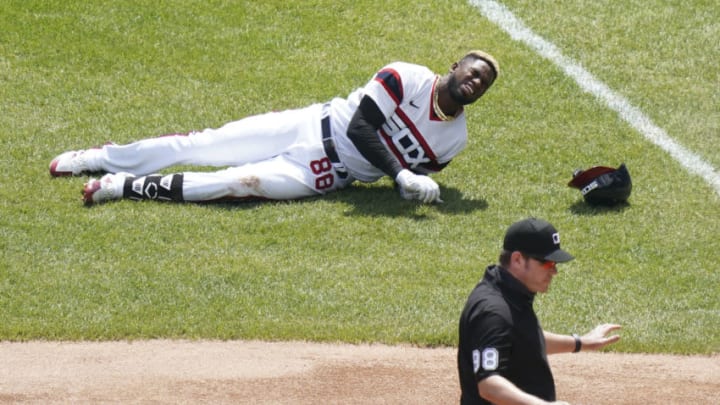 Luis Robert (Photo by Nuccio DiNuzzo/Getty Images) /
There is a saying in sports that a player's best ability is his availability. This season, the Chicago White Sox and every other team in the Major Leagues have put that axiom to the test as a result of not only injuries but COVID-19 issues as well.
The White Sox are right in the mix of favorites to win the American League pennant and they have certainly had to deal with their fair share of players missing time due to injury. According to Spotrac, as of September 11th, the White Sox have had 21 different players miss time. That totals 1,198 days.
The combination of the team's projected starting outfield at the beginning of the season of Luis Robert, Adam Engel, and Eloy Jimenez have combined for 332 of those days. Pitcher Jimmy Cordero was ruled out for the season due to Tommy John surgery, thus adding 162 games to the total.
The 21 White Sox players missing time pales in comparison to a number of teams throughout baseball, including those in the playoff hunt in both leagues. The playoff contenders include teams with over 30 players on the disabled list led by the Tampa Bay Rays at 37 and Milwaukee Brewers with 36. Right behind them are the San Francisco Giants at 35.
Others include the New York Mets (34), New York Yankees (33), Toronto Blue Jays (32), Houston Astros (31), Los Angeles Dodgers (31), and Philadelphia Phillies (30). The San Diego Padres, Seattle Mariners, Cincinnati Reds, and St. Louis Cardinals all fall between 21 and 28 players while the Oakland A's (16) and Atlanta Braves (19) have managed to remain relatively healthy.
The Chicago White Sox and all of baseball have dealt with injuries a lot in 2021.
As a point of reference, the 2019 Yankees set the record for injured players in a season at 30.  This year alone, 11 teams have tied or surpassed that mark with several others closing in. Missing a day or two is one thing but based on the combination of the COVID virus tag-teaming with injuries, time missed does add up quickly.
The Padres (2,291), Rays (2,155), and Mets (2,044) each have seen players miss over 2,000 days of time. Only the Red Sox, Orioles, A's, Royals, and Indians have seen players miss less than 1,000 days.
Another saying is "time is money" and in baseball, missed time is wasted money. Teams have spent over $733 million on players relegated to the disabled list. The Los Angeles Angels have spent a whopping $60,404,578 on guys who couldn't put on a mitt or take an at-bat. The Mets and Astros were next in line at over $50 million. Only the Pirates and Indians were under $10 million. As for the White Sox, the financial hit hasn't been too bad as they rank 20th in the majors at $17,164,992.
Since 2017, the amount spent on players on the DL exceeded this year's total in both 2018 ($745,769,319) and 2019 ($886,453,206). However, this year has far and away seen more players miss time and COVID-19 has been the main culprit for it. 794 players have gone down so far this season compared to a high of 585 in '18.
There is no doubt that it pays to be healthy but it is important to be healthy at the right time. For the White Sox, that time is now as they approach the stretch run of the season.  The solid lead in the AL Central has allowed them to take their time with getting guys right just in time for the postseason. Playing with their full complement of players hasn't been something the Sox have had the luxury of doing often this year but getting the team to full strength for a World Series run in October will be a welcome sight.