Chicago White Sox: They clearly chose the right starting catcher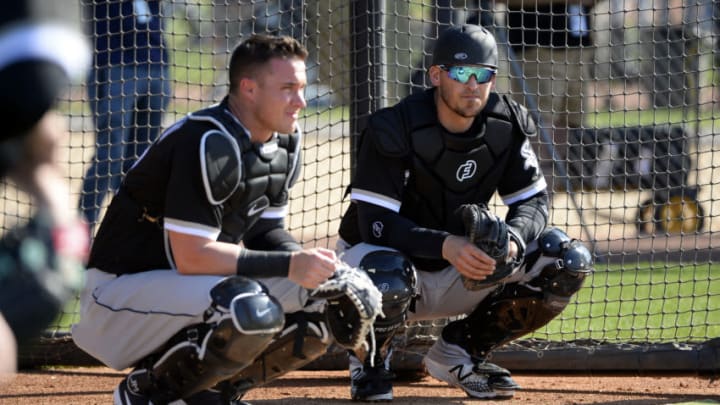 (Photo by Ron Vesely/Getty Images) /
In 2020, the Chicago White Sox had the best catcher duo in Major League Baseball with Yasmani Grandal and James McCann. McCann broke out with the White Sox in 2019 before Grandal got there but the White Sox signed Grandal going into 2020. It was one of the first big moves that they made as they ended the rebuild. For one year, these two were great together.
McCann's contract was up after 2020. The White Sox made Yasmani Grandal the highest-paid player in the history of the franchise so you know they were going to stick with him. McCann's production with the White Sox earned him a well-deserved starting role with the New York Mets.
There were some people out there who wanted the White Sox to keep him and figure out a way to get rid of Grandal. Luckily, the fanbase doesn't run the show because Grandal is a significantly better player than McCann in every way. With New York, McCann hasn't been what he was with the White Sox and Grandal is a superstar with the White Sox.
Grandal, despite missing some time due to his knee surgery, has been one of the White Sox best hitters. He has 20 home runs, 56 RBIs, and an OPS of .945. Those are literally MVP numbers if spread out over a 162 game schedule.
As for McCann, things haven't gone well. He has 10 home runs, 41 RBIs, and an OPS of .662. His damage rate with the Mets doesn't even come close to what it was with the White Sox. Would he be better as a backup than Zack Collins or Seby Zavala? Absolutely. Is he anywhere close to Yasmani Grandal? Absolutely not.
The Chicago White Sox made the right decision with their starting catcher.
The White Sox made the right decision in signing Grandal. For the duration of his contract, he is going to be a significant piece to the Chicago White Sox success. With an OPS like that coming from a catcher, it is obvious that he is a significant part of winning for this team. As long as he stays healthy, he is one of the most important players on the roster.
Yasmani Grandal also has some significant postseason experience. He has never won the World Series but he has made some very deep runs with the Los Angeles Dodgers including a National League pennant. That type of experience on a team that doesn't have much should really help. He is a great player to have in an organization and the White Sox are lucky to have him.