Chicago White Sox: Texas Rangers present interesting challenge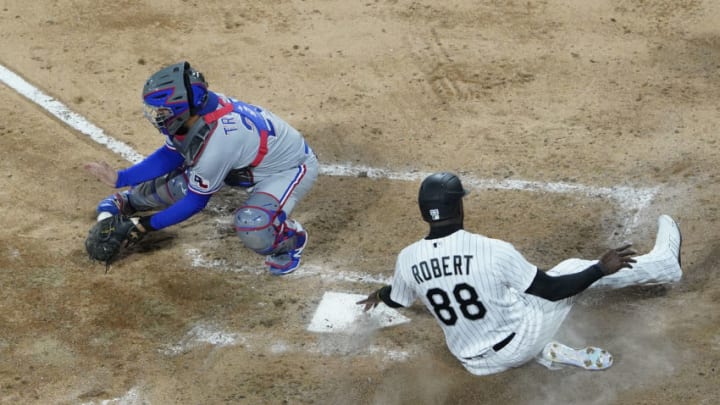 (Photo by David Banks/Getty Images) /
The Chicago White Sox didn't have the best series against the Los Angeles Angels. They were awesome against the Boston Red Sox who are significantly better than the Angels. A lot of factors went into it all. They played their best lineup against the Red Sox most of the time while there was a lot of resting going on against the Angels. They will be more at full strength against the Texas Rangers than they were against the Angels but they still will rest some people.
For one, Carlos Rodon won't make a start in this series. However, the Ranges have the misfortune of facing Dylan Cease, Lance Lynn, and Lucas Giolito. Taylor Hearn, Spencer Howard, and Jordan Lyles are the three pitchers expected to face the White Sox in that order. It is a pitching matchup that should favor the White Sox.
Tim Anderson has been playing every other day. If that holds up in this series, that would mean you should only expect him to play on Saturday. It is going to be interesting to see what other types of lineups you see over the course of the season.
Every Major League team is a Major League team for a reason. However, the White Sox are significantly better than the Rangers. The Rangers are one of the worst teams in the American League at 54-91. It is hard to sweep anyone but the White Sox should have that as their goal. If they do that, they should clinch the American League Central very early into next week.
This series is huge for the Chicago White Sox as they get close to clinching.
One player to keep an eye on in this series is Eloy Jimenez. In terms of power, he is in a bit of a slump. The last time that he hit a home run is August 29th against the Chicago Cubs. He could use a long ball as bad as anyone on the team. It would really help the White Sox if he gets himself on track because he has all-world talent at the plate.
It is going to be interesting to see how they use Yasmani Grandal and Yoan Moncada in this series. They were both off on Thursday and it showed in the offense. They are both on crazy on-base streaks which is fun to watch but La Russa clearly wanted to give them a bit of rest. They should be plenty impactful in this series against the Rangers.
As the season winds down, starting with this series against the Ranges, this should be where Tony La Russa starts to really work on the bullpen. It is interesting to think about the possibilities in the postseason. Regardless, it is going to be fun to see the White Sox compete against this Rangers team as they look to clinch really soon.