Chicago White Sox: Dylan Cease has a lot to build on after 2021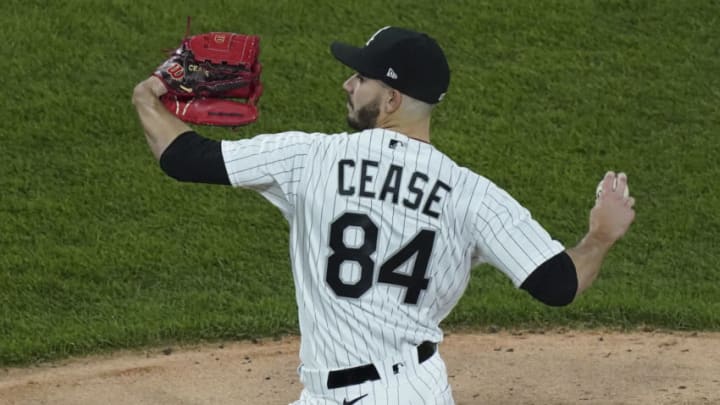 CHICAGO, ILLINOIS - MAY 11: Dylan Cease #84 of the Chicago White Sox throws a pitch during the fourth inning of a game against the Minnesota Twins at Guaranteed Rate Field on May 11, 2021 in Chicago, Illinois. (Photo by Nuccio DiNuzzo/Getty Images) /
The Chicago White Sox saw Dylan Cease have a magnificent year in 2021. He was expected to eventually turn the corner and he did just that. He was up and down through the early stages of his career but that normally happens to really good pitching prospects. Now that Cease has some really good starts under his belt, the White Sox are confident in him going forward.
Of course, there is still a long way to go. Many believe that Cease has another level to get to. He has an outstanding mix of pitches that he can use to confuse batters at the plate. He also throws his fastball really hard which helps make his junk pitches that much more valuable. As he commands everything even better, the numbers will start to become gaudy.
Cease ended 2021 as the number four starter on the roster. Carlos Rodon, Lance Lynn, and Lucas Giolito were clearly the big three but Cease wasn't far behind. As the season went on, it was hard to number these guys because they were so good.
A 3.91 ERA isn't the most magnificent number but it lowered more and more as the season went on. He needed a few starts this year to really start feeling it and eventually he got it below four. He also led the White Sox with 226 strikeouts which is a magnificent total.
The Chicago White Sox saw Dylan Cease have a great year for them in 2021.
He was also the only White Sox starting pitcher that made all 32 of his starts. All of this accumulated to 3.0 wins above replacement which is magnificent for a pitcher in Cease's shoes. The fact that he is just scratching the surface of his potential should be very scary news for the rest of the American League. He is on track to have a magnificent MLB career.
The White Sox landed Cease along with Eloy Jimenez in the trade that sent Jose Quintana to the Chicago Cubs. The White Sox dominated that trade with Jimenez on his own so adding a potential superstar starter like Cease makes it even more lopsided which is awesome.
Going into 2022, you can expect Cease to have a really good year. As he showed in the postseason, there is still work to be done but he is on his way. Ethan Katz has another offseason to work with him which should really help out. Hopefully, he spends a long time with the Chicago White Sox while pitching in some really meaningful games.