Chicago White Sox: Dominating the Cubs was awesome in 2021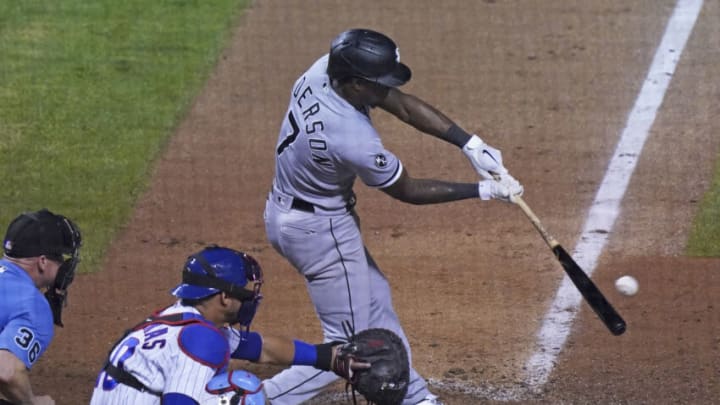 CHICAGO, ILLINOIS - AUGUST 08: Tim Anderson #7 of the Chicago White Sox hits a double during the eighth inning of a game against the Chicago Cubs at Wrigley Field on August 08, 2021 in Chicago, Illinois. (Photo by Nuccio DiNuzzo/Getty Images) /
It is always just better when the Chicago White Sox are better than the Chicago Cubs. Not only were they better in 2021, but they were significantly more talented. That was even more apparent after the Cubs traded away Anthony Rizzo, Kris Bryant, and Javier Baez at the trade deadline. As a result, the White Sox had a relatively easy time dominating them.
They played each other a total of six times during the 2021 season and the White Sox won five of them. It was pure domination. Of course, it was predictable based on where the two teams are at with their franchises.
The Cubs won the World Series in 2016 following a rather successful rebuild. Since then, however, some very bad decisions have led to them falling off much quicker than people originally anticipated. Now, the White Sox are trying to do the same thing except they want to keep the dominance going longer than four years.
2021 was a big step for the White Sox and they showed why all season long. The Cubs continued selling off their players as mentioned before and now look to be starting a new rebuild. Now the two teams are on opposite ends of the baseball spectrum and might be for a long time.
The Chicago White Sox are the best team in town right now and it may stay that way.
Part of the reason that the two teams are in different spots right now is a trade that the two teams made in 2017. The White Sox gave the Cubs Jose Quintana in exchange for Eloy Jimenez, Dylan Cease, and two other prospects.
Quintana is gone from the Cubs in the present time. Meanwhile, Jimenez and Cease are on the border of becoming superstars and may already be there. This is the most lopsided trade that the two teams have ever made.
In 2021, before the two teams met on the field, they made two more trades. The White Sox first acquired Ryan Tepera from the Cubs for a prospect. That was a good trade for the White Sox but the Cubs made a good trade for themselves not long after that.
The Cubs sent the White Sox Craig Kimbrel for Nick Madrigal and Codi Heuer. It was the right move for the Sox at the time but it turned out to be a bad trade. Tony La Russa didn't use Kimbrel right so he wasn't very good on the South Side. However, Madrigal and Heuer both have the potential to be very good Cubs players for a long time.
It will be interesting to see how future games between the two teams go but it was fun to watch the White Sox dominate in 2021. One of them even came on national TV where the White Sox blew them out. In that game, Cease and Jimenez were the two stars of the game which was awesome. Hopefully, this White Sox team can keep the dominance going.