Chicago White Sox: This is the most underrated player on the team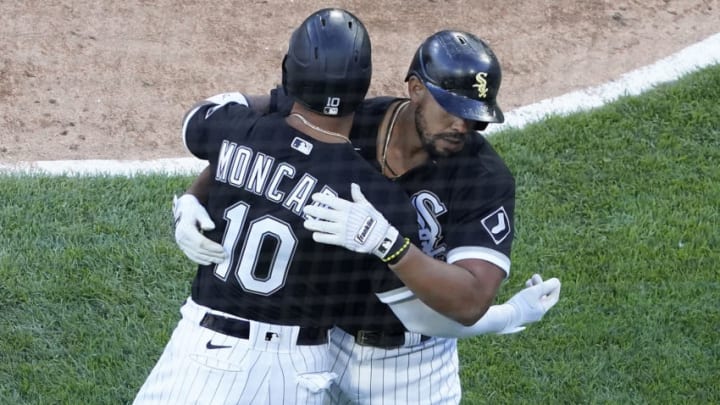 CHICAGO, ILLINOIS - MAY 29: Jose Abreu #79 of the Chicago White Sox is greeted by Yoan Moncada #10 after hitting a two-run home run against the Baltimore Orioles during the sixth inning Game Two of a doubleheader at Guaranteed Rate Field on May 29, 2021 in Chicago, Illinois. (Photo by David Banks/Getty Images) /
The Chicago White Sox are a phenomenal baseball team. They won the AL Central Division in 2021 with a 93-69 record. It was one of the best years that the franchise has ever had and it led to their back-to-back playoff berth for the first time ever. The reason that they are able to do this is that they have great players.
One of those great players is Yoan Moncada. He is the face of the rebuild as he was the number one prospect in all of baseball when the White Sox acquired him from the Boston Red Sox. Of course, that trade also brought back Michael Kopech and sent away Chris Sale.
A lot of White Sox fans think Moncada isn't that good of a baseball player. That is just entirely not true according to pretty much every statistic. In fact, he is an elite baseball player in every way. He is missing some pop in his bat but he is still a very good hitter that also plays an elite third base.
In 2021, Moncada had a 4.0 WAR which is very good. His OPS was only .787 which is good but the lower power numbers are the reason it isn't higher. His on-base percentage of .375 sure is nice and only going to continue climbing. You don't get to a 4.0 WAR without being an incredible player.
The Chicago White Sox have a very good player playing third base for them.
There is a lot of competition for "best third baseman" in Major League Baseball. It is one of the deeper positions in the league in terms of talent. As a result, Moncada is one of the more underrated players in all of baseball. He is very good and the White Sox are lucky to have him.
Moncada's problem is that people expect too much. He isn't as good of a hitter as Luis Robert or Eloy Jimenez. He also is never going to be. That is okay too. Those guys might be generational hitters. All Moncada needs to do is slightly improve his power and continue playing this well in the areas he excels at.
Going into 2022, there shouldn't be a lot of pressure on Yoan. He could bat anywhere from 2nd in the lineup to 7th. When a guy like that has a chance to bat that low in the lineup, you know it is a great group of baseball players.
He doesn't need to be "the guy". He just needs to be "one of the guys" which is the perfect role for him. Expect him to be one of the true leaders during the 2022 season. He should have an even better year than he had in 2021.