The White Sox need to make second base the main priority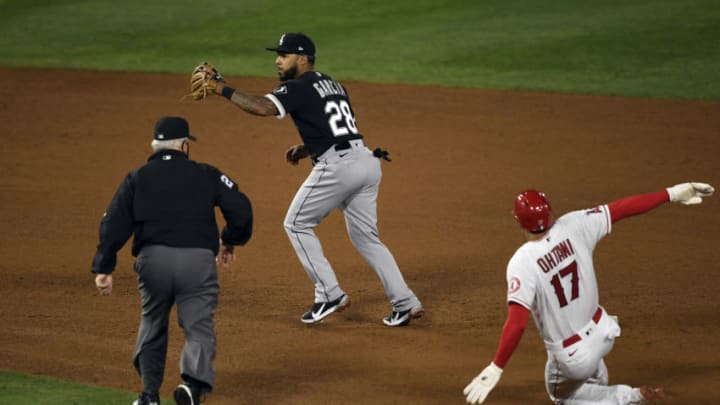 ANAHEIM, CA - APRIL 03: Leury Garcia #28 of the Chicago White Sox catches a wide throw as Shohei Ohtani #17 of the Los Angeles Angels steals second base during the fifth inning at Angel Stadium of Anaheim on April 3, 2021 in Anaheim, California. (Photo by Kevork Djansezian/Getty Images) /
Following the conclusion of the 2021 season, it was clear the Chicago White Sox had several glaring holes they needed to fill if they were to improve their chances of getting to and winning a World Series.
The two most obvious problems were their lack of production from the second base and right field positions. Each position was manned by a platoon system for most of the season which was not ideal by any stretch of the imagination.
However, injuries to Nick Madrigal (along with his trade to the Cubs) and Adam Engel-both of whom were expected to be the everyday players at second base and right field-forced the likes of Adam Eaton, Leury Garcia, Gavin Sheets, Andrew Vaughn, Danny Mendick and Cesar Hernandez to take turns to fill the voids.
Once the season came to a close, there were some solid players available through free agency who would have been immediate upgrades for the White Sox.  Unfortunately, the team didn't get aggressive and watched as Marcus Semien, Javier Baez, Cory Seager, and Eduardo Escobar sign elsewhere.
The Chicago White Sox really needs to fix the second base position before 2022.
That isn't to say there aren't players still on the free-agent market who can help the White Sox. The problem is that the apparent lack of interest in the aforementioned players has people wondering how active the team will be in going after Nick Castellanos, Kris Bryant, Michael Conforto, or Trevor Story.
Carlos Correa coming to the White Sox is a pipe dream as reports of the deal he is looking for will not be something the team will be willing to meet. While it is interesting to think about his coming over and moving Tim Anderson to second, that might not be something that would sit well with TA considering how he wasn't willing to give up his position to Manny Machado when the Sox were rumored to be looking into signing him several years ago.
While both second base and right field need to be addressed, second base may be the more pressing of the two positions to fill. The free-agent list of second basemen available is very lean talent-wise compared to the number of guys who can take over in right field. Since more options exist for right field, the Sox have a better chance to land a quality player through free agency than they do at second base.
Due to the pickings being slim at second base, general manager Rick Hahn may have to go the trade route to find someone. Talks of reliever Craig Kimbrel being trade bait have been ongoing since the season concluded and Hahn will have to find someone looking for a closer who also has a good second baseman.
Adam Frazier would have been a nice pick-up via trade after this past season but he went from San Diego to Seattle in a deal. The Sox were two-time losers on Frazier as they couldn't pull off a trade to get him last season and eventually settled for making a deal with Cleveland for Hernandez.
One team to keep an eye on is the New York Mets who may look to deal Jeff McNeil. He is in his first year of arbitration eligibility and is under team control through 2024.
Aside from who happens to be available, perhaps the main reason to make second base a top priority is that the position was a liability defensively. Shoring up the middle of the infield is critical to a team's success.
According to The Fielding Bible, the White Sox as a team were 28th overall in defensive runs saved with second base being second-worst in the majors behind Arizona (-17) with a -14 score.
The current lockout has put a halt to any free agent signings or trades but it doesn't mean teams can't be doing their homework in finding help for areas of need. Hopefully, once a new collective bargaining agreement is in place, the Sox will move quickly on the right players and lock them up.