Carlos Rodon's no-hitter is an all-time great White Sox game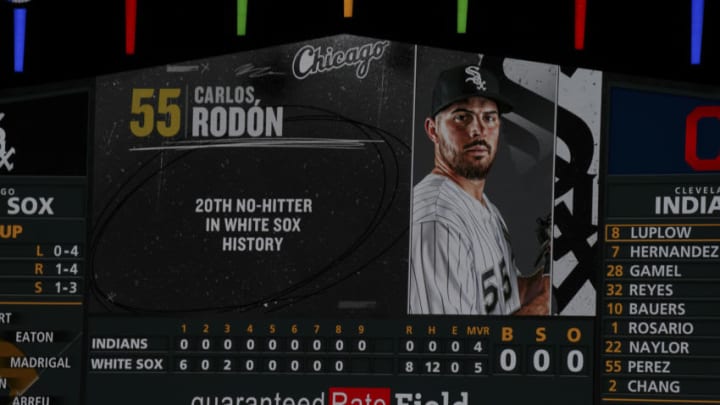 (Photo by Nuccio DiNuzzo/Getty Images) /
One of the best Chicago White Sox moments of 2021 came very early in the season. While Carlos Rodon was trying to make his way in Major League Baseball, he had a historical performance to boost his confidence.
Injuries and inconsistencies caused some people to doubt him but he knew that he could prove everybody wrong. Rodon had to win the job of the fifth starter over Reynaldo Lopez during spring training and he did with ease. Once the season started for real, he took off.
You could argue that he was Chicago's best pitcher for the entire season. Lance Lynn finished two spots ahead of him in the Cy Young voting race but that is because Rodon missed a few starts at the end to deal with arm soreness.
That previously mentioned top moment early in the season was Carlos Rodon's first career no-hitter. It was the 20th in the history of the Chicago White Sox franchise which is a very nice club to be a part of. It was the best pitching performance that any Sox player had during the year.
Carlos Rodon's no-hitter was so much fun for every Chicago White Sox fan to watch.
It came on April 14th, 2021 at Guaranteed Rate Field. It was a stadium that only had 20 percent capacity because the league was still coming back from COVID-19. It was also a very cold night for baseball so the fans in attendance deserved to see something special like this.
Cleveland had one of their top pitchers, Zach Plesac, on the mound which is always a tough battle. Fortunately, the White Sox chased him out of the game in the first inning with six runs on the board. That instantly took the pressure off of Rodon and the White Sox ended up having the 8-0 win.
It was not a perfect game, however, as Rodon threw one beanball that Roberto Perez allowed to hit him in the foot. He could have gotten out of the way but chose not to. Rodon became the 6th pitcher in MLB history to throw a no-hitter where the only miss was a hit by pitch. It was truly a heartbreaker in that sense.
The no-hitter was in serious doubt one batter before Perez. A ground ball was hit to Jose Abreu who had to make a spectacular slide to get the runner at first. It was reviewed and called out which kept the no-hitter going.
It was truly an incredible game. The best part about it is that Rodon was actually making up his start as he was sick when he was originally supposed to be pitching. The White Sox were also 5-6 going into the game so winning it got them up to .500 and they ran away from there. This magical day is something that White Sox fans won't soon be forgetting.