White Sox News
Where will the Chicago White Sox be when Oscar Colas is MLB ready?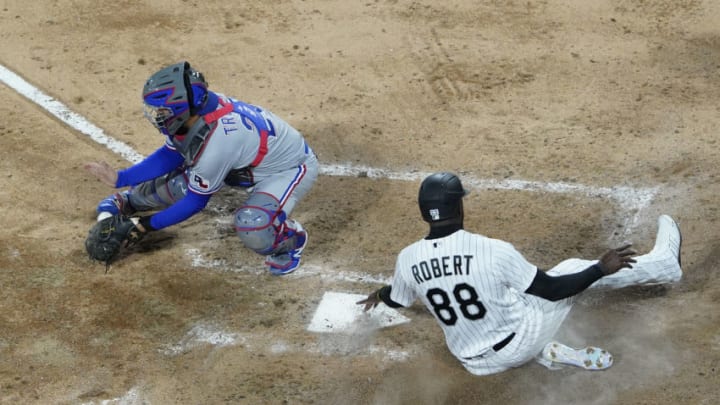 (Photo by David Banks/Getty Images) /
The Chicago White Sox made a very good signing in the international free agent pool. They signed Oscar Colas out of Cuba who was ranked as the 5th best prospect in the class of international free agents. He is hoping to be an outstanding Major League Baseball player in the Chicago White Sox organization.
It is going to take him a few years to reach the big leagues. That begs the question, where will the White Sox be when he reaches the Major League level? They are currently a team that is a shoo-in to win the American League Division unless one of the other teams surprises the world and wins 105 games.
By the time that Colas reaches Major League Baseball, the hope is that he will be joining a White Sox team that is just as good if not better. A team like the Detroit Tigers or maybe even someone else might threaten the White Sox for the division more often but they should be a perennial playoff contender.
It is fair to be confident that they will at minimum be a playoff contender at that time. That is because they have a lot of great young players that are signed in the long term. Players like Luis Robert, Eloy Jimenez, Andrew Vaughn, and Michael Kopech are locked in for a while but all may need pay raises one day.
The Chicago White Sox wants to still be an elite team when Oscar Colas arrives.
It will be interesting to see what upcoming contracts look like for Tim Anderson, Lucas Giolito, and Yoan Moncada look like as well but it shouldn't be too hard to convince them to stay. The future of Jose Abreu is also interesting because Colas more than likely really wants to play with him at some point.
In addition to the talent at the MLB level, there are some great young players in the system. The Sox have high hopes for Colson Montgomery, Jared Kelley, and Yoelqui Cespedes amongst others. If the farm system continues to be strong, there could be a fair amount of sustained success on the south side.
By the time Colas gets there, if he is the player that he has the potential to be, he could be a missing piece type of rookie that helps this team reach the World Series. It is certainly exciting to think about as this team continues to develop lots of young talent. This is truly a great signing by this White Sox front office.