The White Sox hope the Draft Lottery doesn't impact them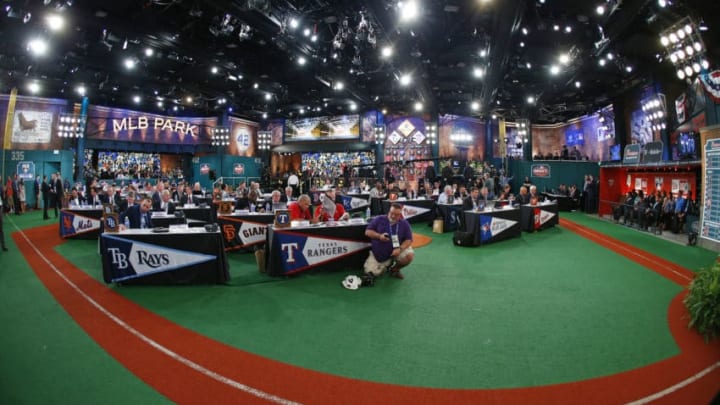 SECAUCUS, NJ - JUNE 5: Representatives from all 30 Major League Baseball teams fill Studio 42 during the MLB First-Year Player Draft at the MLB Network Studio on June 5, 2014 in Secacucus, New Jersey. (Photo by Rich Schultz/Getty Images) /
Major League Baseball is trying to end the labor issues that they are currently dealing with that have resulted in a lockout. The Chicago White Sox would like to see it end for a variety of reasons but the number one reason has to be so that they don't lose another generation of fans. Baseball is amazing and people need to see it on the field.
There are some rule changes that are going to come out of this stuff. The big one is the fact that the designated hitter is coming to the National League. It doesn't affect the White Sox directly as they have a designated hitter already being an American League team.
It will be nice seeing it go away when they do visit the NL ballparks. Outside of one fun Dylan Cease game in 2021, nobody actually wants to see these guys hit anymore. Nobody besides Shohei Ohtani is any good at it and the Los Angeles Angels can forfeit the DH if they want to.
The other new wrinkle to the league is going to be the draft lottery. The team with the lowest record won't be just automatically awarded to first overall pick in the MLB Draft. It will be given to a team that wins the draft lottery. We don't have the official rules on it yet but it will be fun to see.
The Chicago White Sox are hopeful that they aren't in draft lottery contention.
This is going to be put in place to address the player's concerns with teams tanking instead of competing every year. The worst team in the league will no longer be guaranteed the top pick which will make tanking irrelevant. Every team will have less incentive to be bad on purpose.
It isn't a full-proof plan as it is sure to be a weighed lottery but it will definitely help. Teams like the Baltimore Orioles might not be bad on purpose for four (or more) straight years on purpose anymore. Between the universal DH and this, it is surely a sign of progression.
The hope is that this rule also doesn't impact the White Sox any time soon. If you win the draft lottery, it probably means that you are a bad team. In other sports, teams that just miss the playoffs win the lottery every now and then but it is rare.
The White Sox want to stay where they are as a World Series contender and not be worrying about a draft lottery. Leave that for the other teams in the division. There are some good baseball players in each draft and the worst team in the league doesn't always deserve them.