Oscar Colas is already impressing at spring training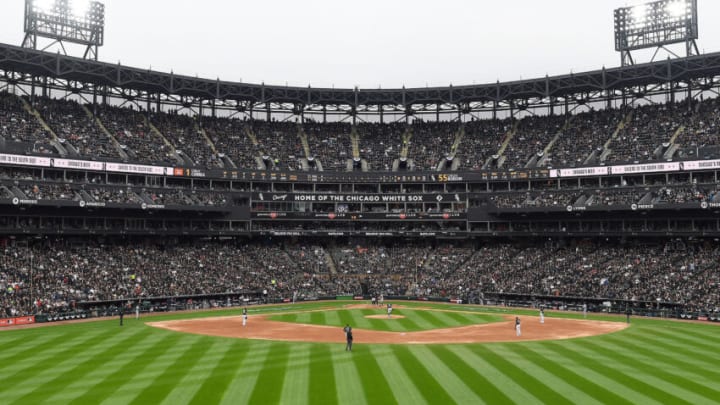 (Photo by Quinn Harris/Getty Images) /
The Chicago White Sox has an elite core. Unfortunately, they are not at spring training yet because of the greedy MLB owners and their lockout. We can only hope that they get back out there soon enough because they are missed.
However, there are players in the system that are there at the minicamp that they are having for Minor League players. One of them is Oscar Colas who signed with the White Sox as an international free agent.
So far, it looks like Colas is fitting into spring training perfectly., He took social media by storm on Tuesday because of his awesome play. With the nature of his signing, he is always going to garner lots of attention but it is actually deserved this time.
He showed exactly why the White Sox wanted to get him so bad during that session. He has incredible power, speed, and ability to field baseballs which will help him become an impact player at the MLB level.
Oscar Colas is going to become a great player for the Chicago White Sox.
Colas, as you can see in the video, has the ability to turn big doubles into triples because of the fact that he is so fast. His future teammate Luis Robert is the exact same way which is nice because Robert may be able to help Colas own his skills when he arrives.
It is unfair to put those types of expectations on Colas but it is fair to wonder how good he is actually going to be. This team is always looking for more rookies and young players to help keep their franchise as a successful one over a long period of time.
It is clear that even when the MLB guys show up, people are going to pay attention to Colas a lot. There is the interest of the unknown as well and we truly have no clue how good he is going to be. With that in mind, Colas has all of the tools to be absolutely sensational.
He plays the outfield naturally. The Sox need a long-term plan in right field and Colas can use that as his fast track to the MLB if he succeeds in the minor leagues. He will start lower in the system but should go through it quickly. The White Sox could sign a good veteran right fielder for now until Colas is ready for full-time action.
The way that he has shown himself at this minor league minicamp taking place (while we wait for spring training to come back) is a good start. The team's farm system is lower ranked right now so getting Colas going is important and so far so good.