Chicago White Sox get no help from MLB on schedule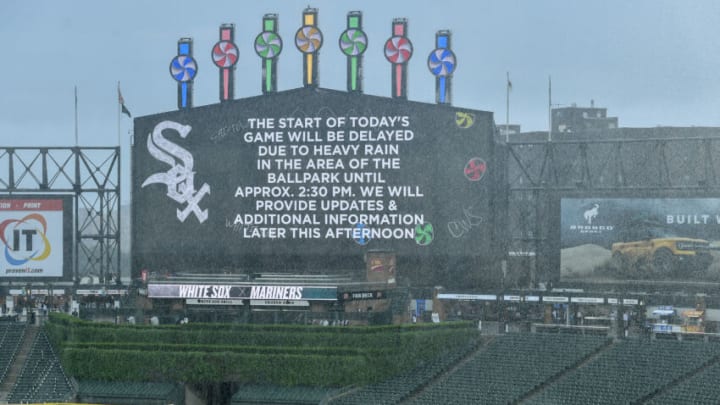 CHICAGO, ILLINOIS - JUNE 26: A general view before the game between the Chicago White Sox and the Seattle Mariners that was delayed due to heavy rain in the area of the ballpark at Guaranteed Rate Field on June 26, 2021 in Chicago, Illinois. (Photo by Quinn Harris/Getty Images) /
The Chicago White Sox and the rest of the teams in the American League Central have one thing in common that no other division in baseball has. It is the only division that does not have a team capable of playing its home games under a dome and that is a problem.
Baseball's need to begin its season in late March or early April just invites games to be postponed due to inclement weather. Only teams in year-round warm weather conditions or those who can play in retractable domes stand to get their games in as scheduled.
However, teams like the White Sox and others in cities where the weather is iffy at best for spring face the likelihood of having games postponed for rain or snow. It creates an issue for scheduling as teams are then faced to make up the games on off-days or as a part of day/night doubleheaders.
When Clayton Kershaw had a perfect game going late in the Los Angeles Dodgers game in Minnesota a few weeks ago, he didn't have a chance to finish the deal due in part to the cold temperatures he was pitching in. Manager Dave Roberts didn't want to risk having one of his star pitchers get injured since he didn't have a spring training to really stretch himself out.
A pitch count of 80 was originally set for Kershaw but another number was something the coaching staff kept an eye on. The game-time temperature was 38 degrees, not exactly optimum conditions for a pitcher or any other player for that matter.
Roberts had to think long-term in that situation and didn't want to see Kershaw pull a muscle and do something under those conditions that could cost him for the rest of the season. Kershaw was outstanding but a performance like that at that time of the year is not something that happens often.
The Chicago White Sox would love to start the season with warm weather.
The opening game of the two-game series between the White Sox and Chicago Cubs at Wrigley was better suited for duck hunting season instead of baseball. Sideways rains and cold temperatures didn't prevent the teams from getting the game which was won by the White Sox.
Center fielder Luis Robert did not play in that game and for good reason. The conditions were not conducive for a player coming back from a groin strain which Robert was. After missing a large portion of last year with a hip flexor injury, the team was not about to run the risk of putting one of its stars in harm's way this early into the season in less-than-optimal conditions.
Six games were postponed due to weather this past Friday, marking the most games lost in a day since 2018. It's bad enough that the start of the season was pushed back due to the 99-day lockout but weather knocking out games at an alarming pace certainly isn't helping baseball either.
Rain will always be a factor regardless of the time of year. But cold temperatures and snow are things baseball can find a way to work around. Proposals from starting the season later so as to allow for better weather to having teams open seasons in warm weather areas or stadiums with retractable roofs have been put forth but to no avail.
Instead, baseball will be going to a balanced schedule next season courtesy of the new collective bargaining agreement. The result of that will be more interleague games and fewer divisional games.
Teams will play 56 games against divisional opponents and 60 against the remainder of their league. The other 46 games will come in the form of four games against a team's geographic interleague rival and one three-game series versus each of the 14 teams from the opposing league.
This is not going to help the situation as the chances for more postponements due to weather will increase since both Chicago and New York teams, as well as teams such as Boston, Philadelphia, Pittsburgh, Baltimore, Minnesota, Colorado, Detroit, and others, do not play in domes.
This could result in a number of teams finding themselves in a scenario where they are playing 20 games in 21 days at some point. Baseball has to find a way to address this problem going forward. The bad weather will not only put players at risk of injury but could create scheduling nightmares in the future.