The Chicago White Sox were unable to sweep the Oakland A's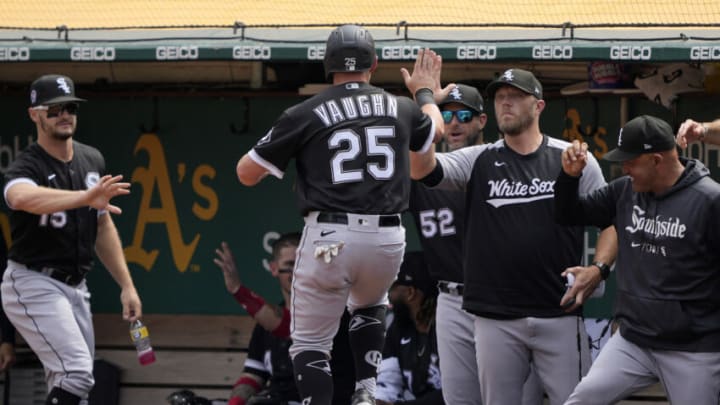 OAKLAND, CALIFORNIA - SEPTEMBER 11: Andrew Vaughn #25 of the Chicago White Sox is congratulated by teammates after he scored against the Oakland Athletics in the top of the first inning at RingCentral Coliseum on September 11, 2022 in Oakland, California. (Photo by Thearon W. Henderson/Getty Images) /
The Chicago White Sox and Chicago Bears both played their games on Sunday against teams from the Bay Area in California. The White Sox are a good team and the Chicago Bears are a bad team so the results of the day might surprise you.
The Chicago Bears beat what is supposed to be a very good San Francisco 49ers team at home while the Chicago White Sox were defeated by the Oakland Athletics on the road. It was a great day for the Bears but the White Sox didn't enjoy it as much.
Before the game started, it came out that Tony La Russa's medical condition has to do with a heart. He had a pacemaker put in his heart. Of course, the main focus for him should be his health and we hope he is okay.
The White Sox were trying to sweep the Oakland A's in a four-game series at the Oakland Coliseum. Unfortunately, they came up short in this one as the A's had a great game. From about the 5th inning on, the White Sox just about had no chance.
Johnny Cueto got the start for the Sox in this one and he didn't have his best game ever. He has been fantastic this season but this was a stinker for sure. That happens from time to time but they just need to move forward.
The Chicago White Sox were unable to sweep the Oakland A's on Sunday afternoon.
The White Sox went 5-2 on the road trip to the west coast which is really nice. They put together some really good performances that earned them all sorts of wins. Unfortunately, the Cleveland Guardians also played well against the Kansas City Royals and Minnesota Twins at the same time.
By Cleveland beating Minnesota, however, the White Sox jumped back into second place. However, they are still 2.5 games behind Cleveland for the division lead. The Sox just need to keep playing well to give themselves a chance to win the division.
There are plenty of more games between the White Sox and Guardians to decide the lead for the division. Before their series next week, the White Sox have two games at home against the Colorado Rockies. It should be great theatre as the season comes to a close. It would have been nice to sweep the A's but it wasn't in the cards.